When Mr. Biondini returned to his alma mater as a counselor in 2002, he only expected to be here two years. Twenty years later he is saying goodbye to St. Mary's a second time, after graduating as a Pirate in 1966. During those 20 years, Mr. B has served so many roles, including assuming the title of principal and helping navigate the school through the COVID pandemic. Mr. B, there aren't enough words to express all you mean to the St. Mary's community. We're sure many St. Mary's alums have memories similar to those of Cameo Ward '23. Pirate family, what is your favorite memory of Mr. B? Share it with us in the comments. #SMHSPiratePride #SMPirateFacultyFocus #SMHSTeacherTuesday #PiratesOnceAlways

Graduation for the Class of 2022 is less than a week away now! Senior signs have been delivered. So today we begin featuring our seniors (and their families) with their signs. #SMHSPiratePride #SMHSUnitedByCommunity #SMPiratesClass2022 Parents, you can email your sign photos to Amy Partain, director of Communications/Marketing, at
apartain@smhscs.org
or text them to the number in the email you received last week. Thanks!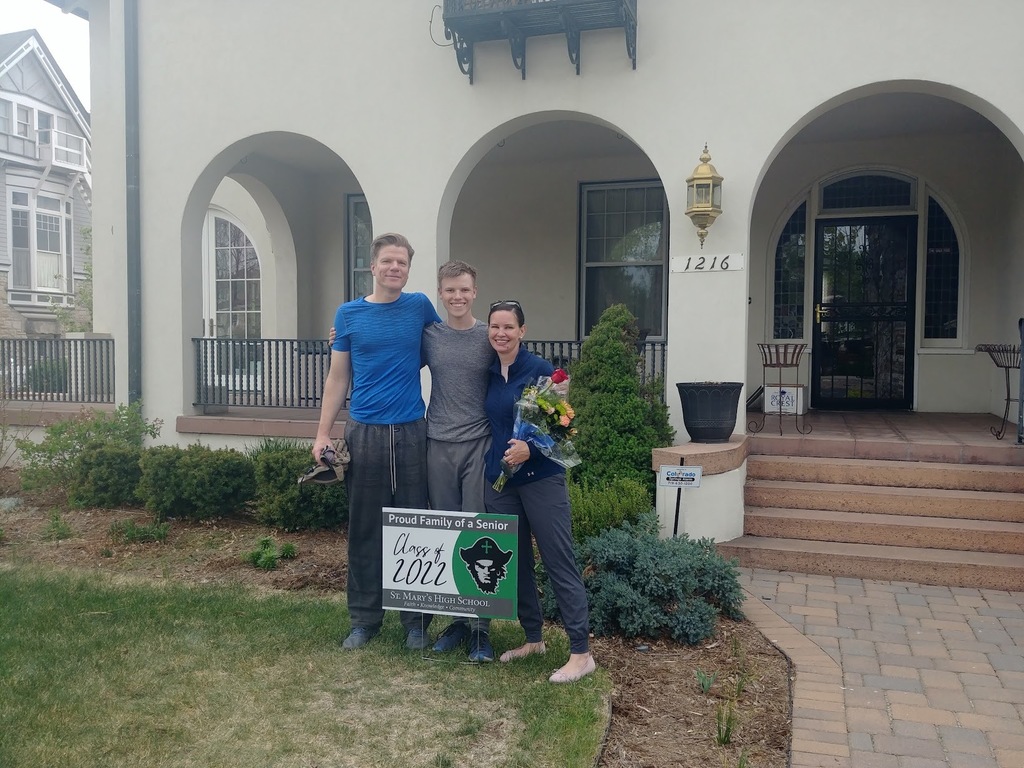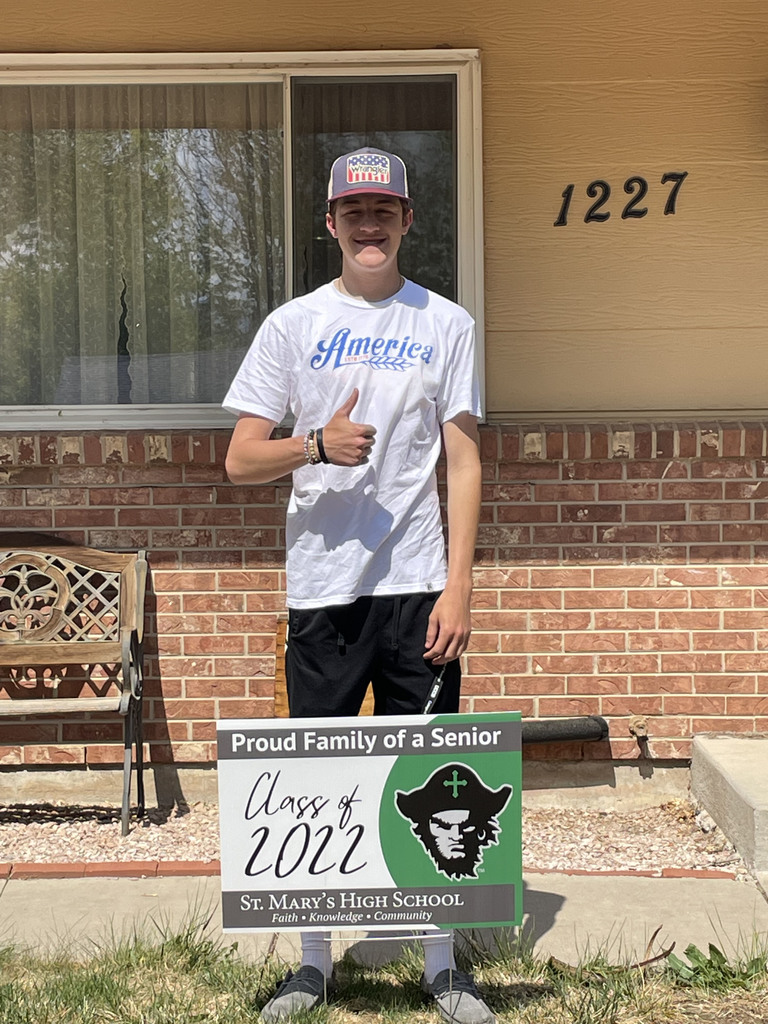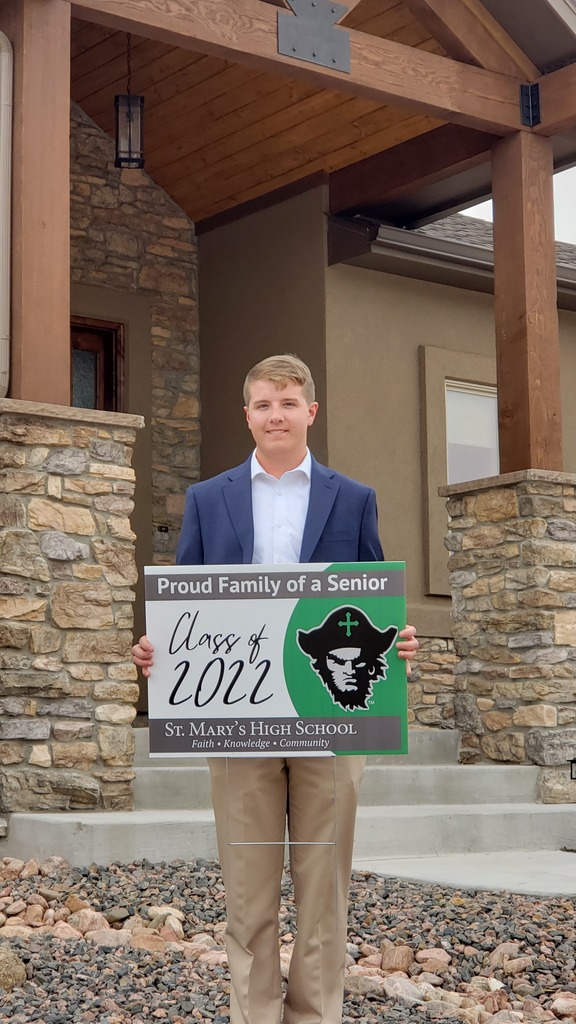 Our Pirate track team competes in the state meet starting tomorrow through Saturday at JeffCo Stadium in Lakewood. Only the top 18 ranked student athletes for each event in the state qualify to compete at the state meet, and our Pirates team have battled all season to earn their state spots! Coach Nicole Robinson said that going into state St. Mary's has quite a few athletes prepped to make the podium! Our state qualifiers are: Hannah Turpin, Owen Barton, Lyndon Goetleare, Alex Bodnar, Jacob Limb, Jackson Neppl, James Beam, and Billy Kellick Our Pirates will compete in the following events: Thursday: 2 pm - Boys Long Jump (Owen Barton), 2:40 pm- 100m Dash prelims (Hannah and Owen), 5:15 - Boys 4x800m Relay (James, Alex, Jacob, and Jackson), 6:15pm - Girls 200m Dash Prelims (Hannah) Friday: 10:30 am - 3200m Run (Jackson, Lyndon, and Alex), 11 am - Girls Long Jump (Hannah), 1:05 pm - Boys 800m Run (Jackson), 3:48 - Boys 4x400m Relay Prelims (Billy, James, Alex, Jacob) Saturday: 10:37 am - 100m Dash Finals (Hannah and Owen), 1 pm - Boys 1600m Run (Jackson and Lyndon), 1:18 pm - Girls 200m Dash Finals (Hannah), 4:48 pm - Boys 4x400m Relay Finals If you can, come out and cheer on our Pirate track team! If you can't be there in person, the meet will be livestreamed, here is the link for those who would like to watch:
https://co.milesplit.com/.../456502-colorado-state-track
... Congratulations to the state qualifiers and the entire track team! And good luck to those who will compete in the state meet! #SMHSPiratePride #PiratesAchieve #SMPIrateTrack (photos: Steve Bodnar)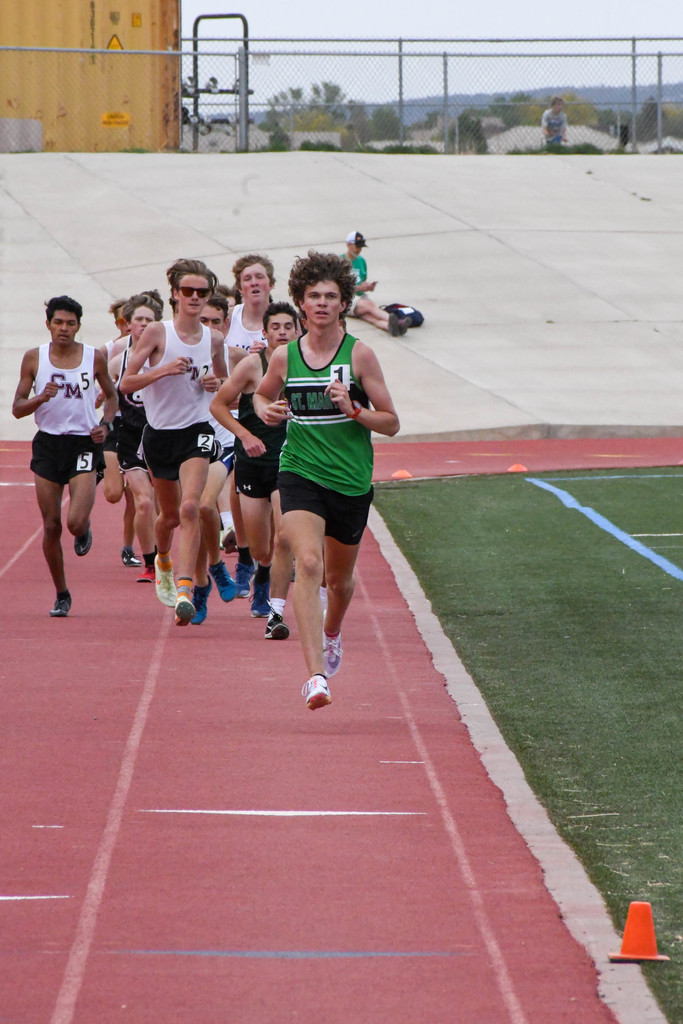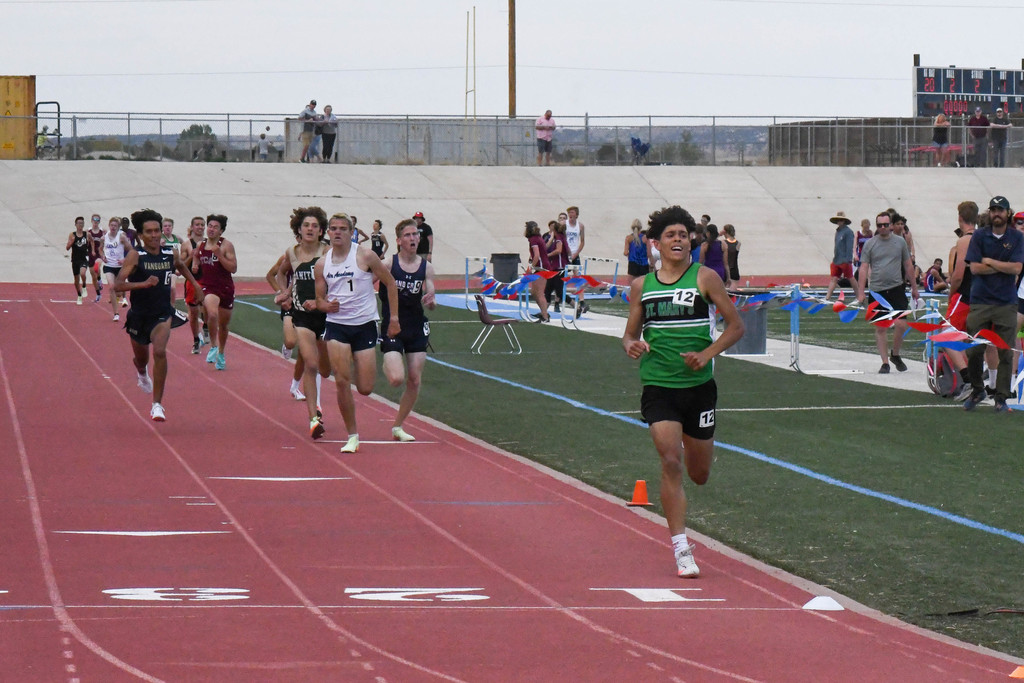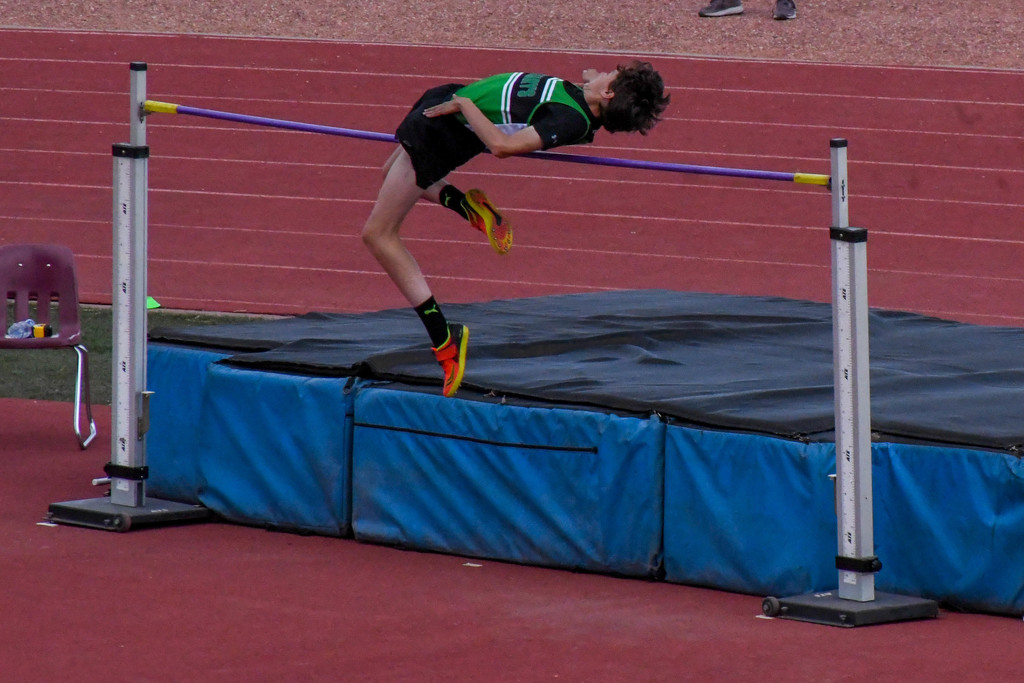 Meet your No. 1 and No. 2 state tennis champions, seniors Ellie Hartman and Anna Costalonga! Both won their titles yesterday (May 14) during the 2022 3A CHSAA Tennis Tournament at Memorial Park in Colorado Springs. Hartman's No. 1 title is the first in St. Mary's history! Congratulations to both and the whole tennis team, which finished third in the state! #SMHSPiratePride #PiratesAchieve #smpiratetennis (photos: Diane Torrence)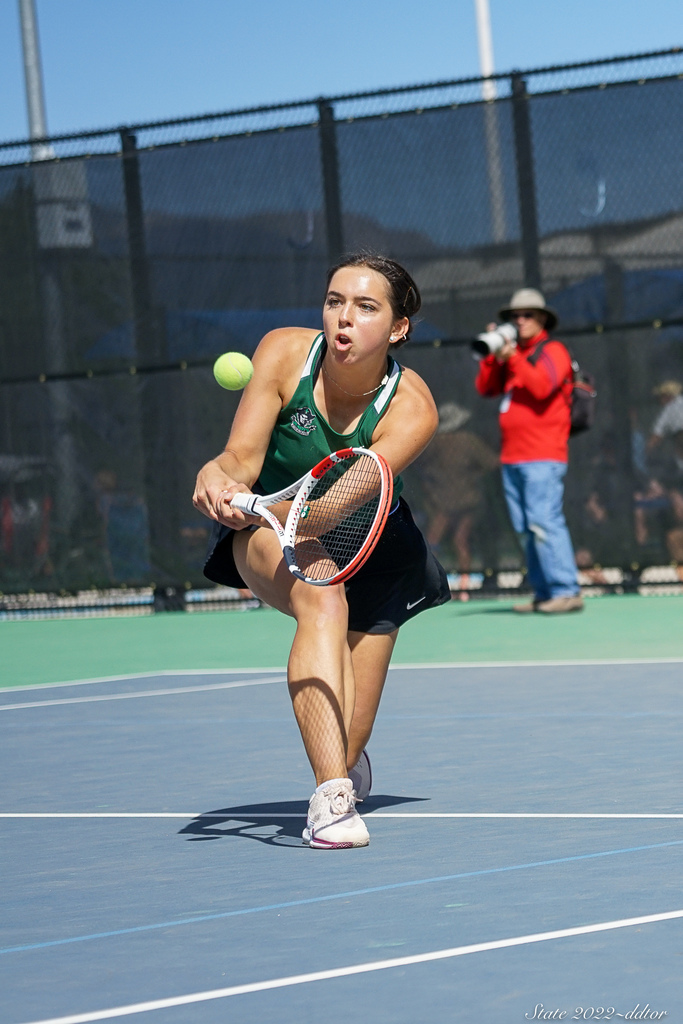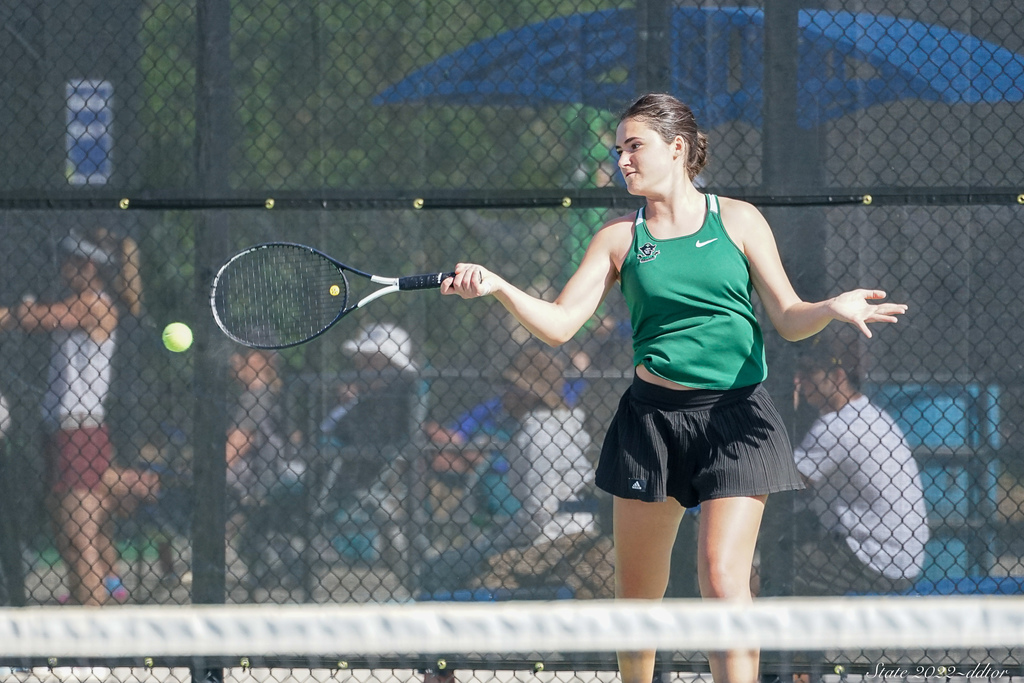 Thanks to the generous donations of our St. Mary's community, the Students for Life Club's annual baby drive brought in more than 300 clothing items! Earlier this week, the items were donated to the Life Network, where the staff was thrilled and grateful to receive the items. The items will be used for Life Network's Baby Boutique, where clients they serve can "shop" with Baby Bucks they earn by participating in parenting classes. The generosity of our St. Mary's family during this drive will bless many in our community! #SMHSStudents4Life #SMHSPiratePride #SMHSUnitedByCommunity #SMPirateServiceSaturday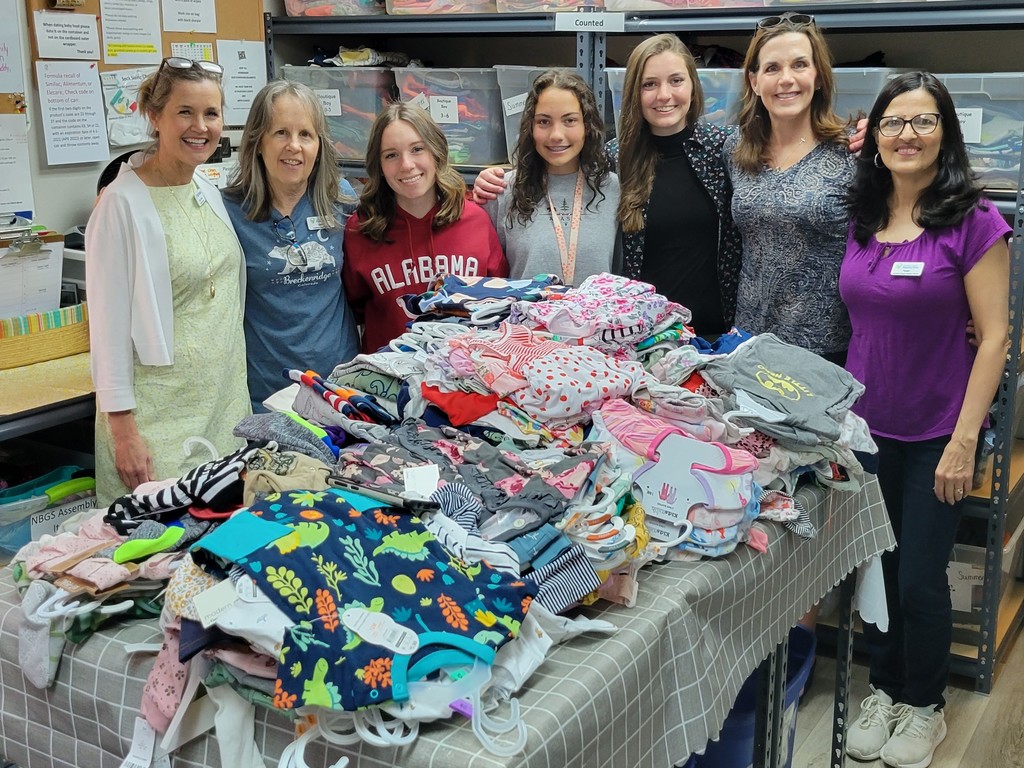 It's been wonderful to have senior traditions return to fully in-person this year! But with sports post-season championships underway, it was difficult to get all the seniors in one picture at the same time. So here are takes 1 and 2 from today's senior class photo shoot—the AM and PM editions. Stay tuned for more senior event photos! #SMHSPiratePride #SMHSUnitedByCommunity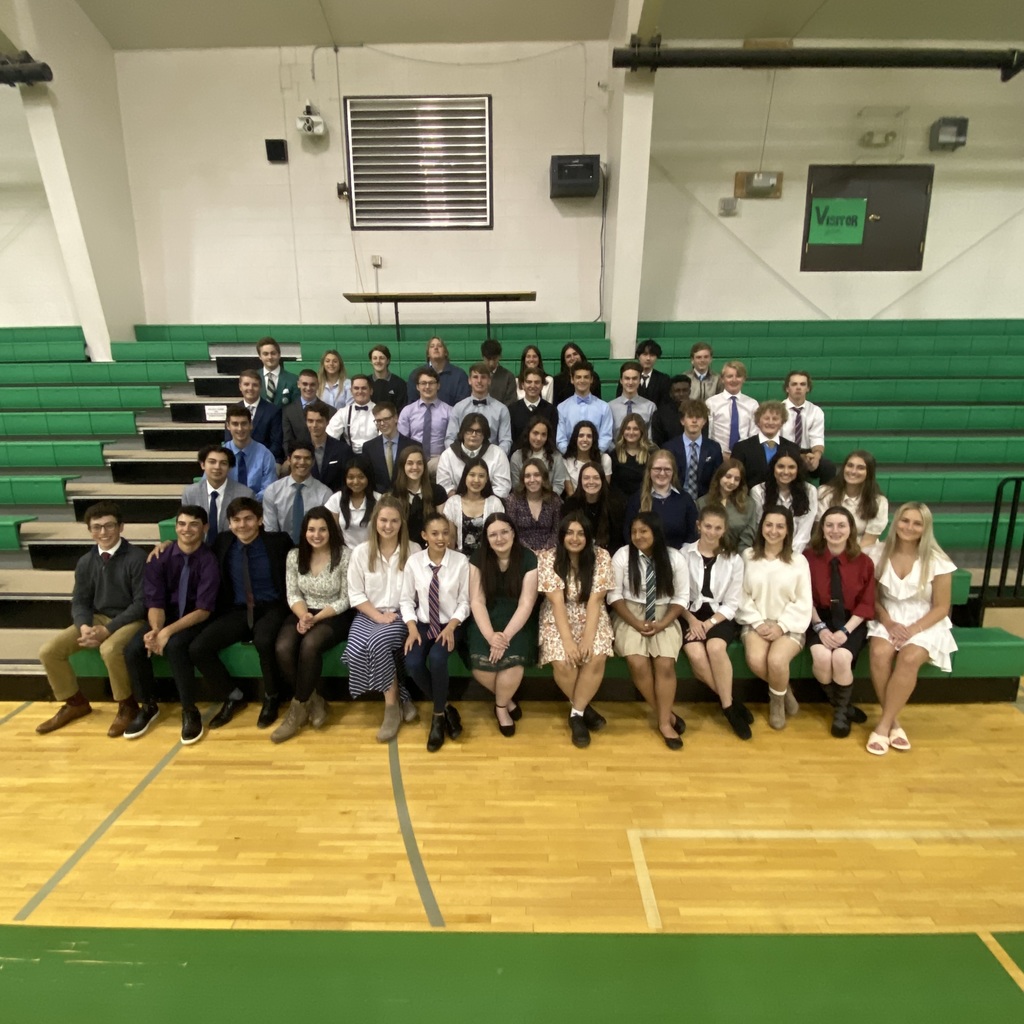 Three Pirate tennis players--seniors Ellie Hartman and Anna Costalonga and freshman Olivia Davalos--advanced to the state championships! The state tournament begins on Thursday, May 12, at Memorial Park, and continues on Friday, May 13. Come out and cheer them on! #SMHSPiratePride #SMPirateTennis (photos: Diane Torrence)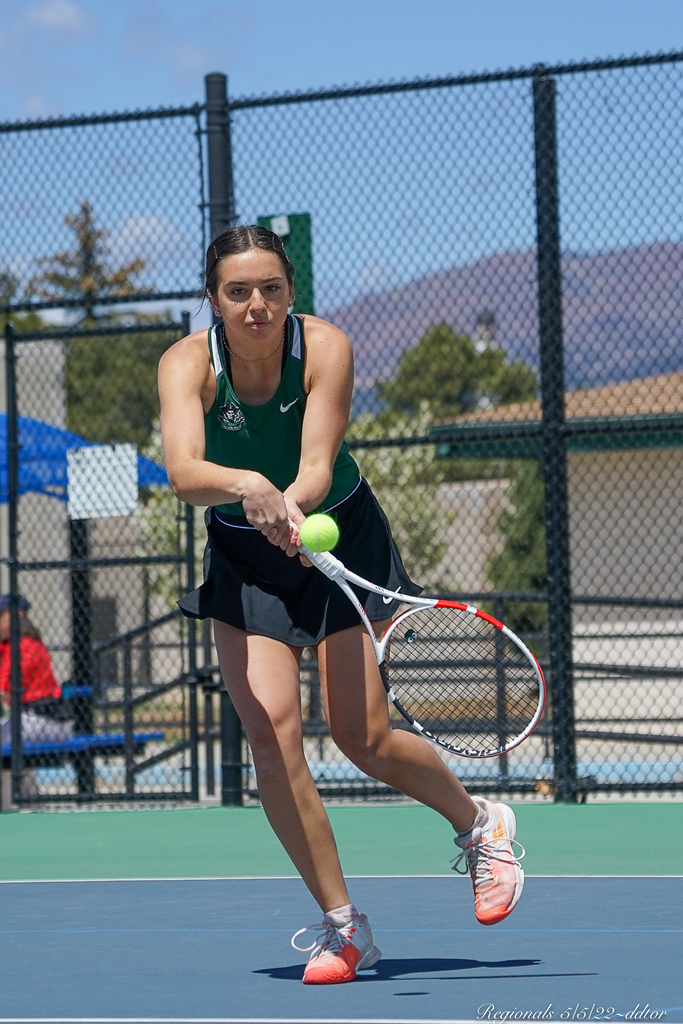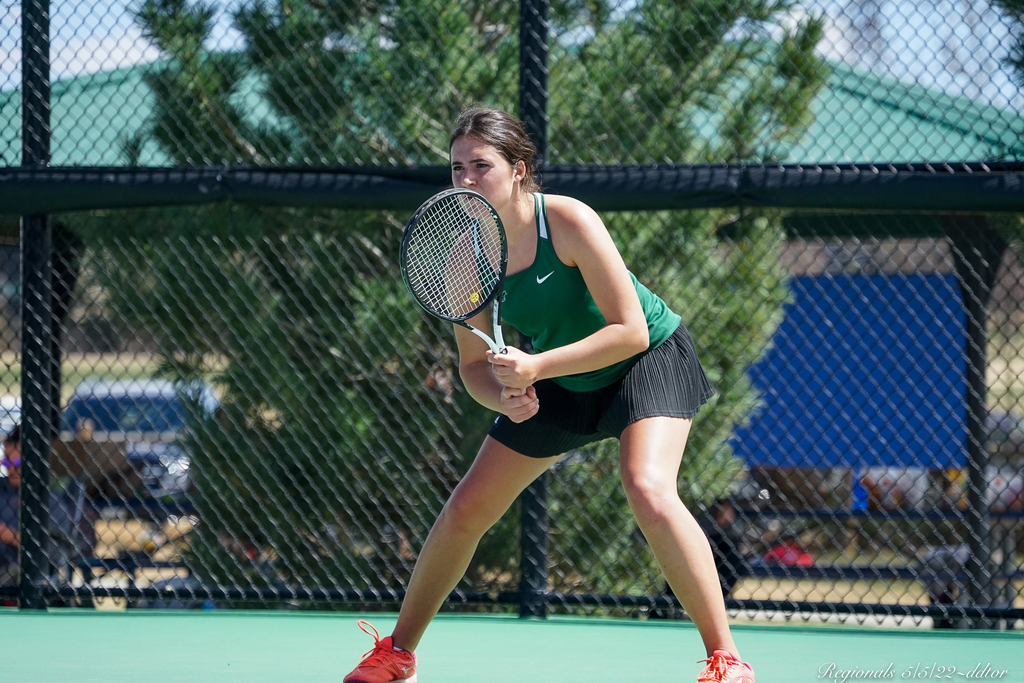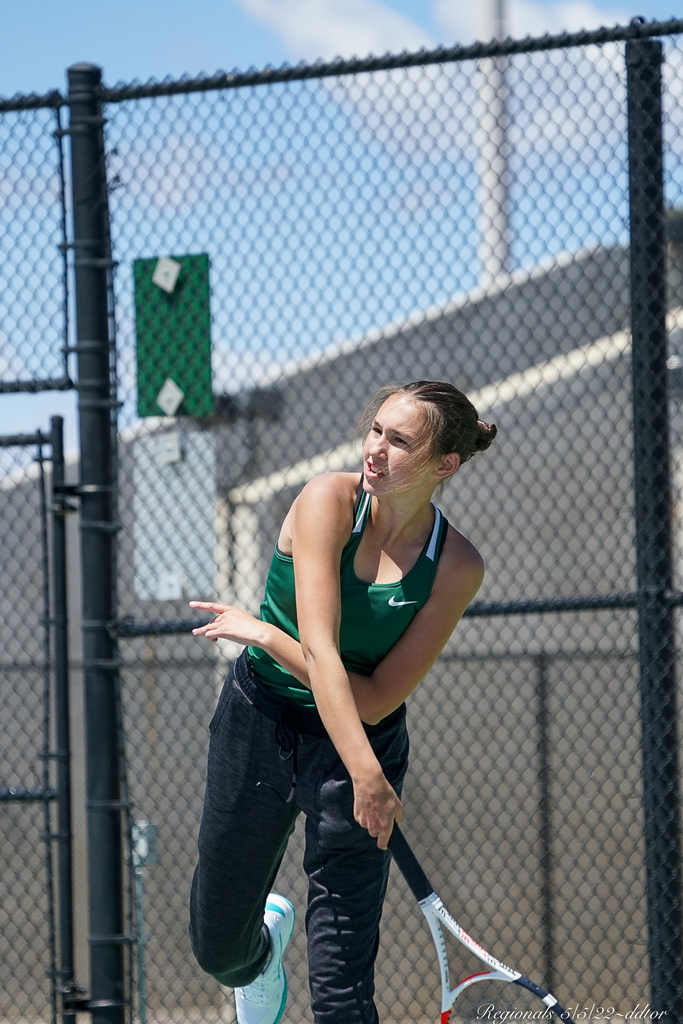 What can we learn from watching movies? Lots actually! And that's what St. Mary's students will do next year in Mr. Barkley's Film as Literature class. Watching films developed from literature like "Last of the Mohicans" and original screenplays like "Finding Neverland," students will discover the intricacies of character development, symbolism, plot development, rhetorical devices, and cinematography as they relate to creating meaning in film. Enrollment spots are still available! Learn more about St. Mary's High School and the steps to apply on our website at
www.smpirates.org
. #SMHSPiratePride #SMHSEmpoweredByKnowledge #SMHSFacultyFocus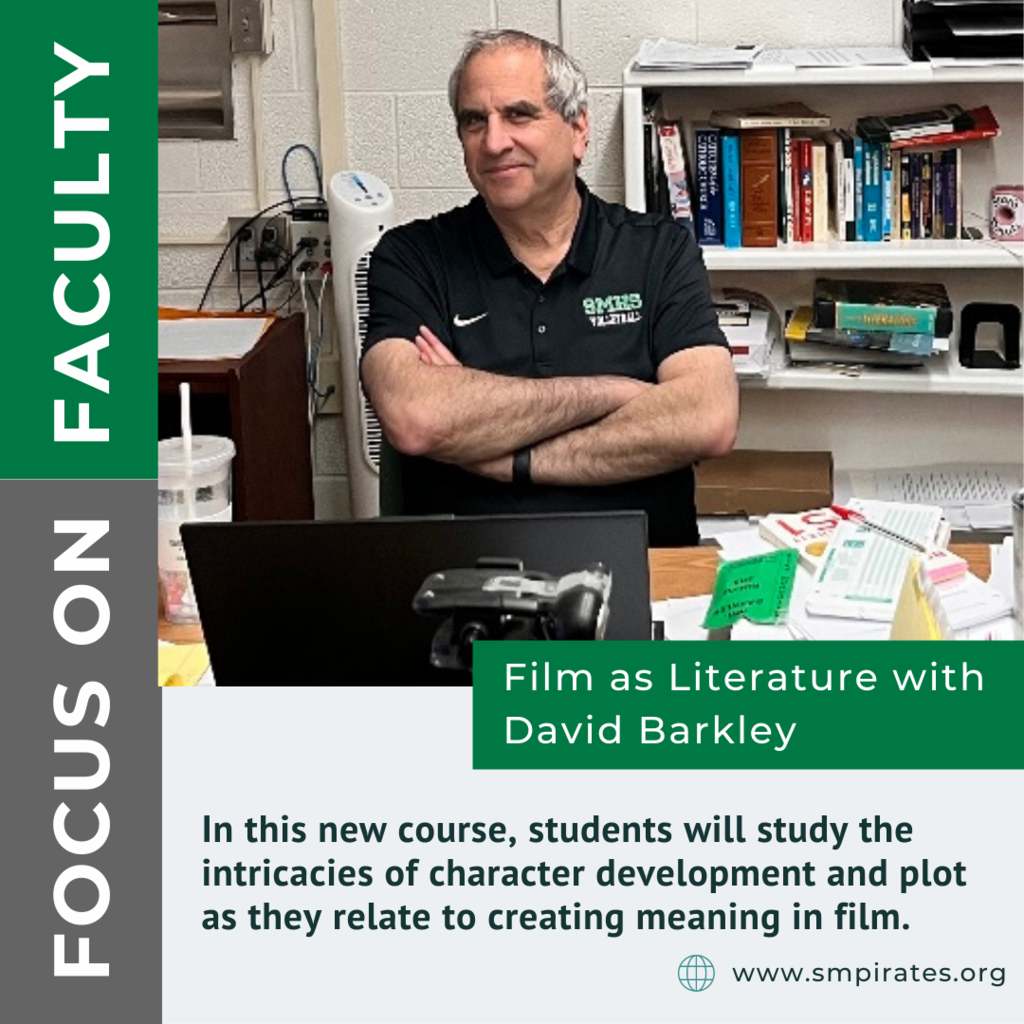 As the 2021-2022 school year winds down, we are honoring our faculty who are leaving us and will introduce the new members of our Pirate family and new courses that are being offered next year. Today, we honor Kathy Hanshew, who is retiring after having served a variety of roles including her current role as chair of the science department. Having Ms. Hanshew as a science teacher has bookended the high school career of Jacob Limb '22. "She is a pillar in the science department," he said. "She is able to get students to enjoy the day-to-day intricacies of science that students often find tedious." Pirate family, what is your favorite memory of Ms. Hanshew? Share it with us in the comments. #SMHSPiratePride #SMPirateFacultyFocus #SMHSTeacherTuesday #PiratesOnceAlways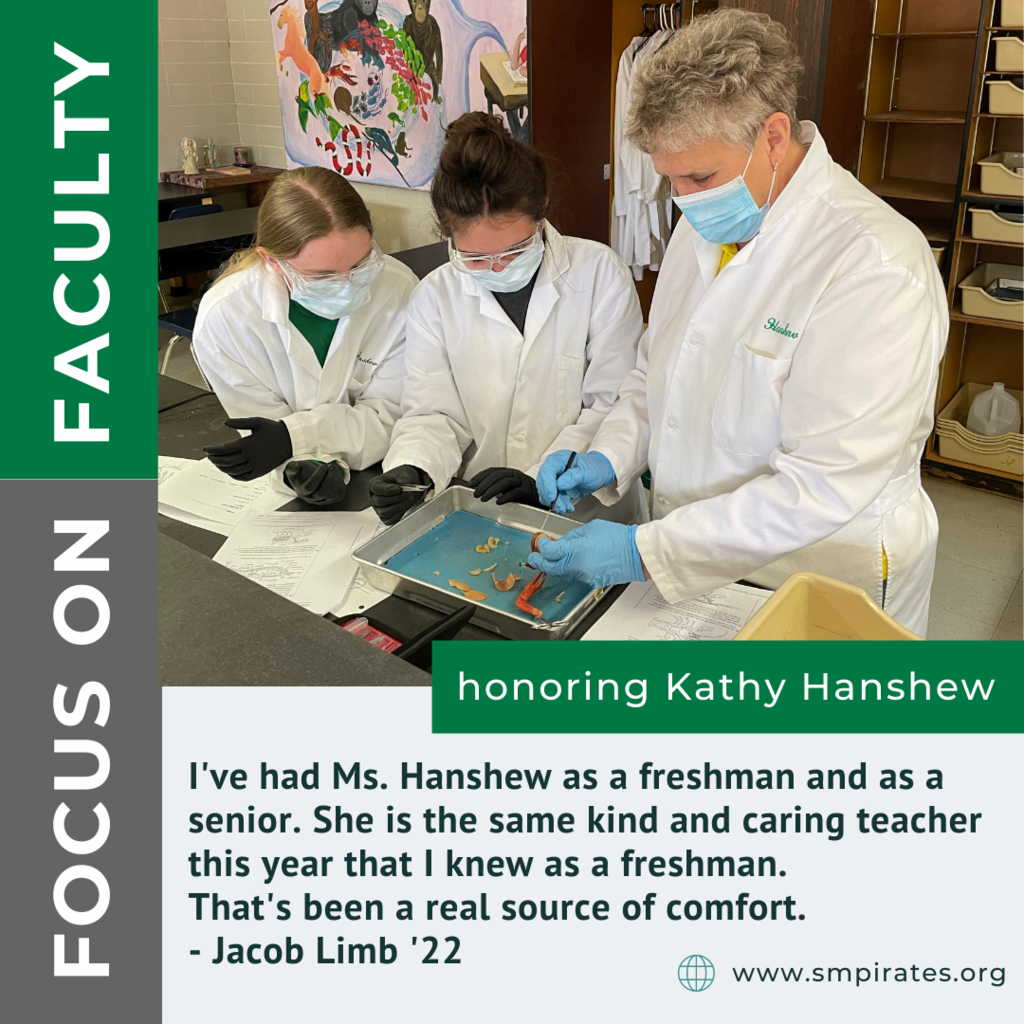 Service is a big part of our St. Mary's spirit! Earlier this semester, Adam Tunnelle '23 and Liam Watson '23 served as volunteers at the Assistance League of Colorado Springs. Students are currently turning in their service hour totals for the 2021-2022 school year. Any guesses how many hours our Pirates have served this year? #StMarysPiratesServiceSaturday #SMHSPiratePride #SMHSInspiredByFaith #SMHSUnitedByCommunity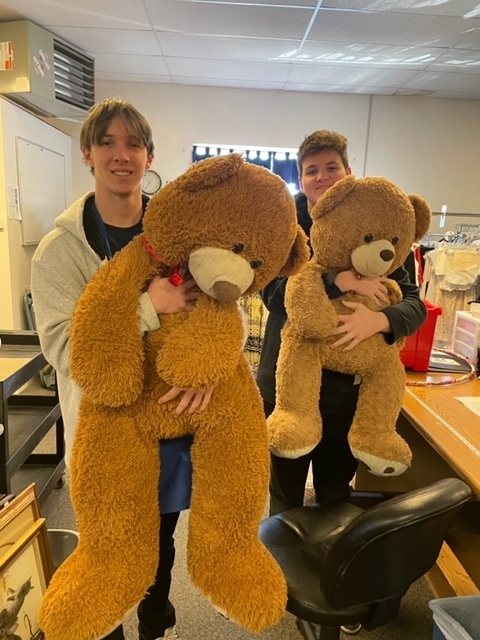 Jackson Neppl '23, pictured left at an indoor track meet earlier this season, took third overall in the 800m at the 2022 Adidas Track Nationals this weekend in Virginia Beach. He ran a new personal record for in the event with a time of 1:57.74. He also ran a new PR in the 400m with a 52.09. His first season of running indoor track was one to remember for Neppl. He qualified for nationals in late February at the Real Training Indoor Meet. His times at the event rank as some of the fastest run by a St. Mary's athlete in these events. His 800m 1:58.50 at the qualifying event was the second fastest in St. Mary's history, while his 52.21 in the 400m was the third fastest in SMHS history. Congratulations, Jackson! #SMHSPIratePride #SMHSPiratesAchieve #SMHSUnitedByCommunity

St. Mary's High School will be on a two-hour delay for Thursday, March 17, due to winter weather. This delay will allow extra time for studnts to arrive on campus. Students should report in person to their first period classes by 9:30 am. Drive safely and see you soon!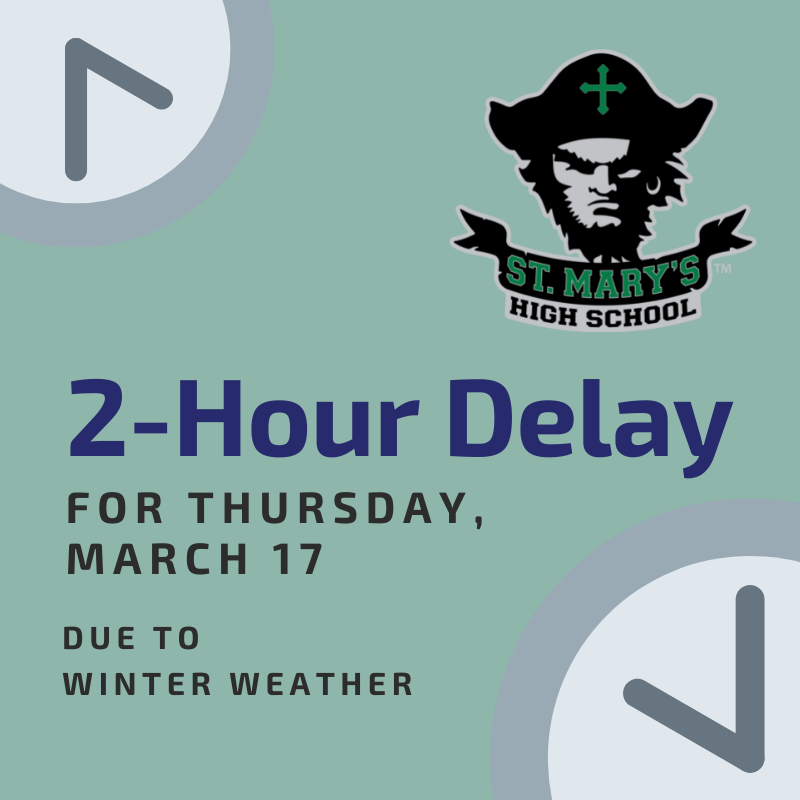 Final from the 3A state basketball tournament is Centauri 71, St. Mary's 67. Centauri opened up a lead with a run that started in the third quarter and grew early in the fourth. The Pirates rallied back closing the gap, but came up short. They will play tomorrow in the third place game at 2 pm in Hamilton Gym. Pirates, we're proud of your amazing season and how you always put faith first, even after tonight's tough loss! #SMHSPiratePride #SMPiratesBoysBball #SMHSInspiredByFaith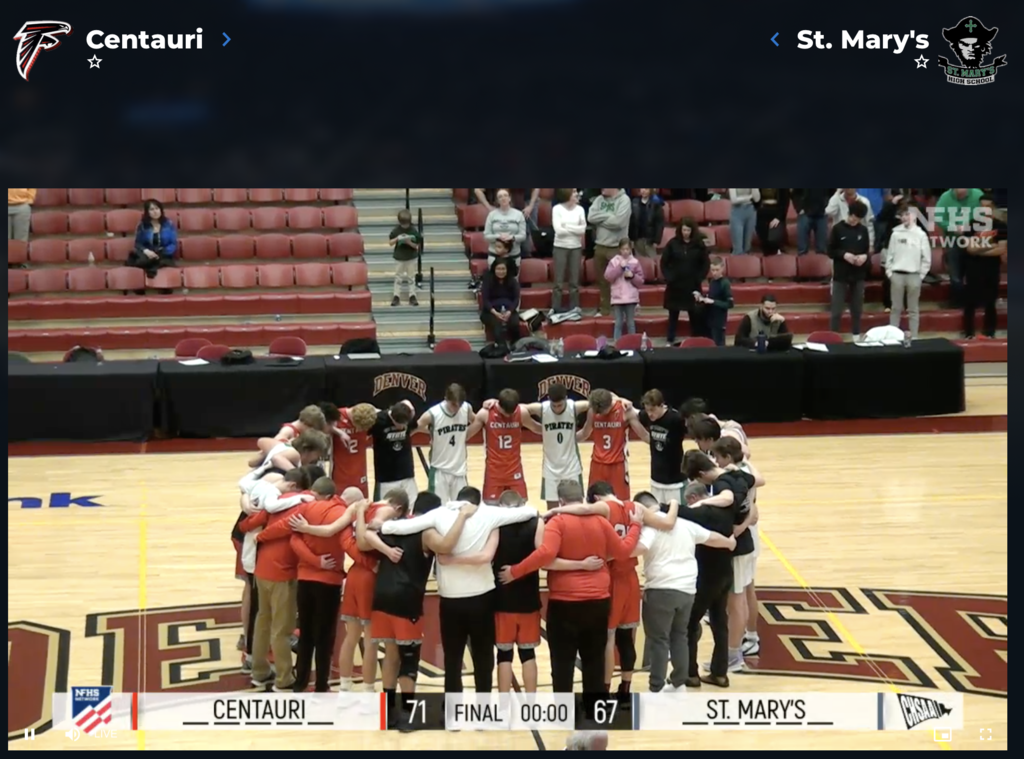 Centauri leads by 3 at the end of the third quarter. Let's go, Pirates! #GoSMHSPirates #SMPiratesBoysBBall #SMHSPiratePride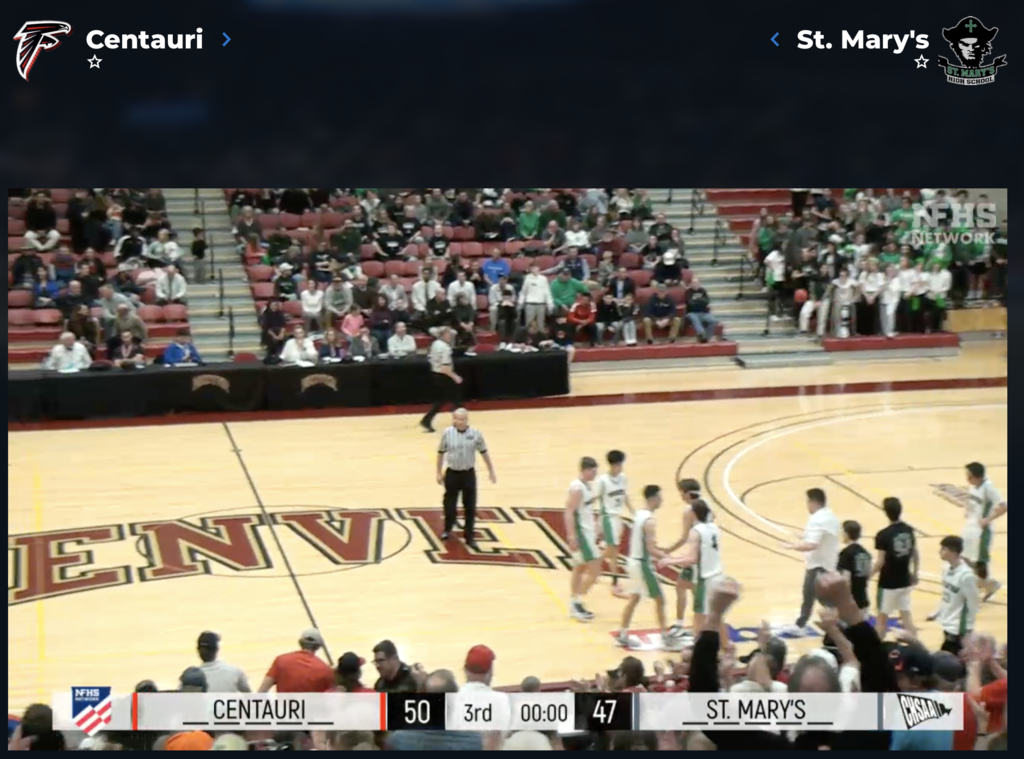 Our Pirates hold onto the lead 39-27 at the half in their 3A Final Four game against Centauri. And the student section is showing it's #SMHSPiratePride! Here we go! #GoSMHSPirates #SMPiratesBoysBBall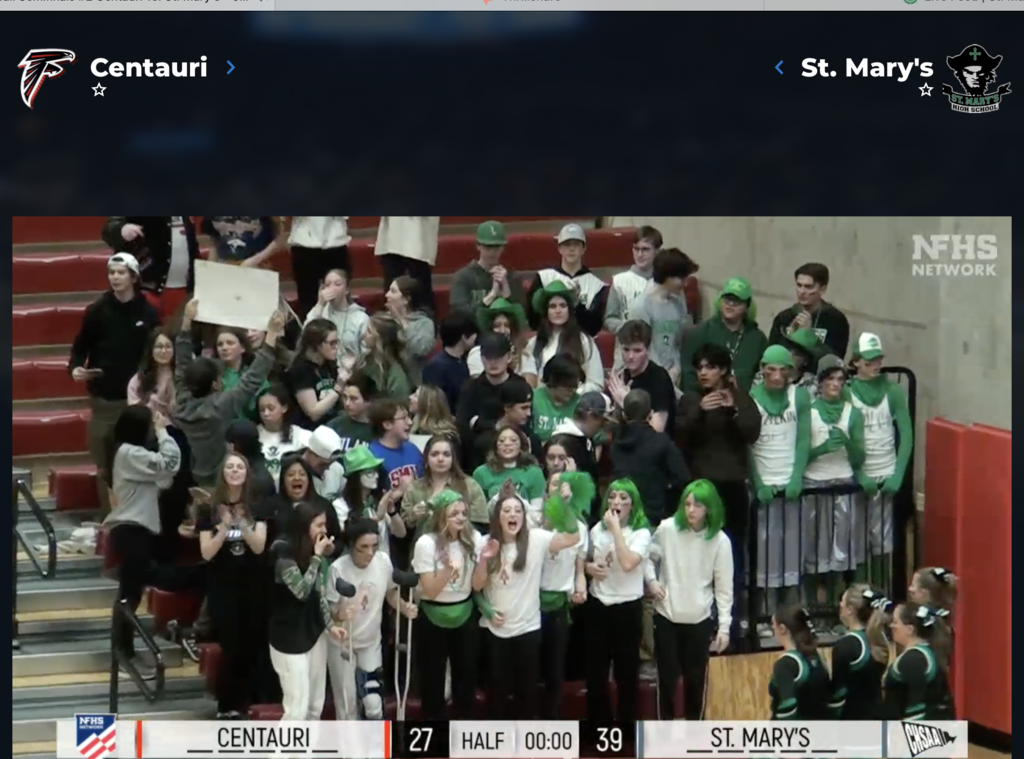 Pirates lead 21-12 to begin the second quarter in their Final Four game against Centauri. #GoSMHSPirates #SMPiratesBoysBBall #SMHSPiratePride

Our Lady Pirates rallied in the 4th quarter, but came up just short with a final score of 52-50 against Grand Valley. Ellie Hartman finished the night with 24 points. A tough loss, but we're proud of your hustle, Lady Pirates! #GoSMHSPirates #SMPirateGirlsBBall #SMHSPiratePride

Lady Pirates behind by 10 at the end of three. Lead cut to 5 in the early minutes of the fourth quarter. #GoSMHSPirates #SMPirateGirlsBBall #SMHSPiratePride

Ellie Hartman hit two free throws to end the second quarter of the Lady Pirates Elite 8 game. The Lady Pirates trail Grand Valley 28-17 at the half. #GoSMHSPirates #SMPirateGirlsBBall #SMHSPiratePride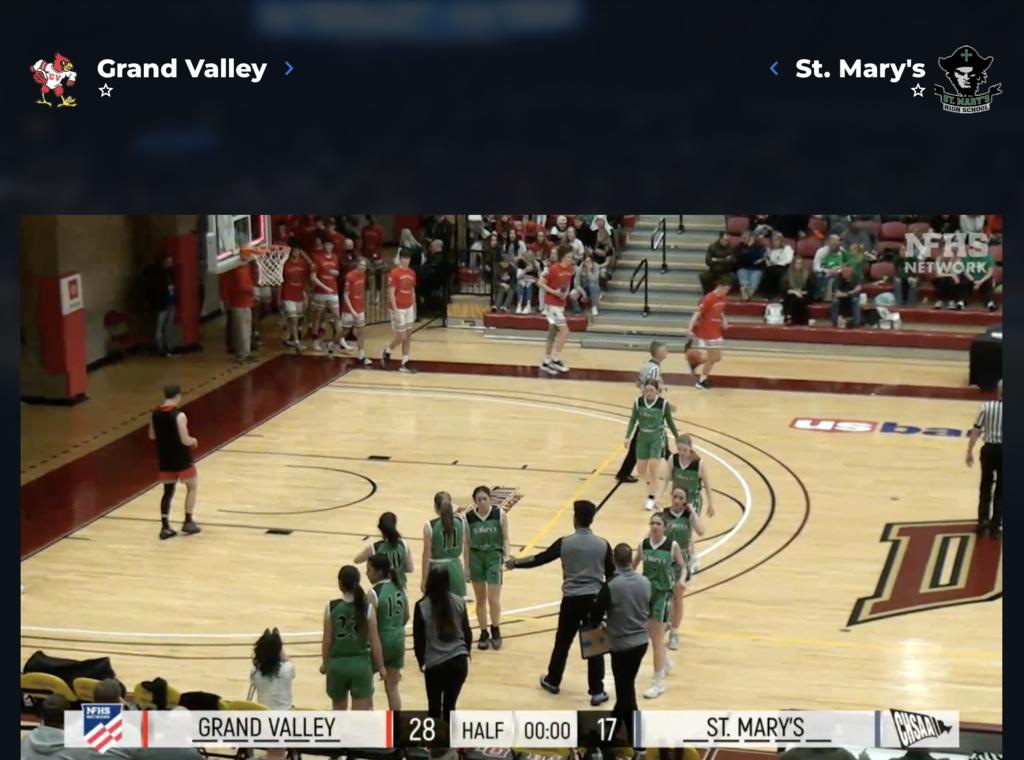 Ellie Hartman hit a 3-pointer to end the first quarter, pulling the Lady Pirates within two of the Grand Valley High School. Score 11-9 to start the second. #GoSMHSPirates #SMPirateGirlsBBall #SMHSPiratePride