The second semester of 2020-2021 begins tomorrow! We're excited to see Group A on campus on Wednesday, Jan. 6, and Group B on campus on Thursday, Jan. 7. #SMHSUnitedByCommunity

The first semester of this challenging year is behind us, and Christmas Break begins. We hope each member of our Pirate family has a safe, happy and peaceful Christmas season! #SMHSUnitedByCommunity

Christmas is a week away! Did you know you that you can support St. Mary's while doing your last minute shopping on Amazon? Just go to
www.smile.amazon.com
to when you shop and designate St. Mary's High School as the non-profit to receive a donation of part of your purchase price. St. Mary's then receives a check a few times per year directly from Amazon. It's that easy! We appreciate all of the support—time, talent, and treasure—we receive from our St. Mary's family! #SMHSUnitedByCommunity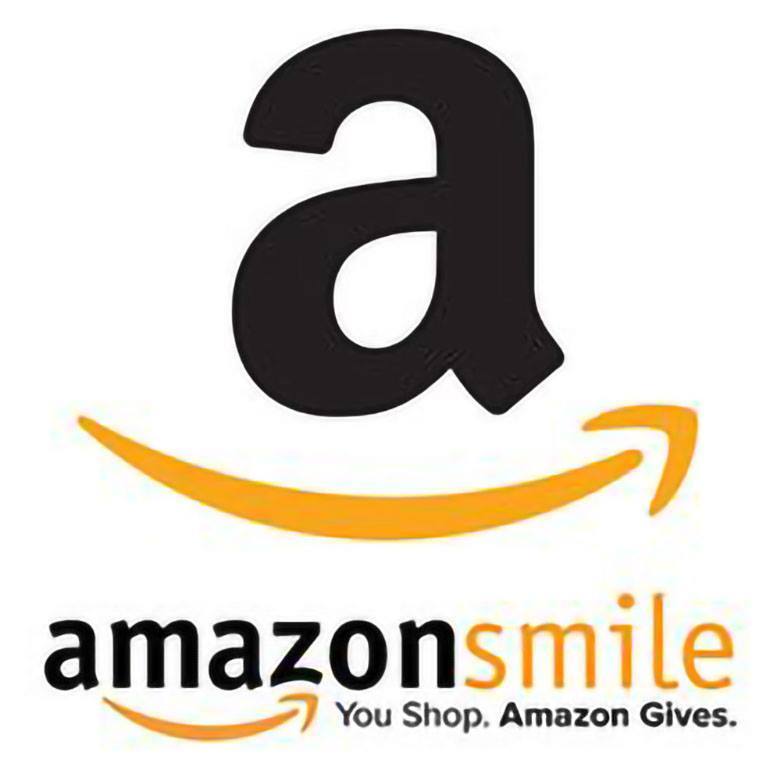 The winners of the 2020 St. Mary's Christmas card contest have been announced. Cynthia Trujillo-Castillo '21 placed first with her drawing of the holy family. Briana Ruiz took second place, and Briana Springs came in third. Thanks all who shared your artistic talents with us! #SMHSPiratePride #SMHSUnitedByCommunity

Senate is hosting an ugly sweater competition on Monday, Dec. 7, and Tuesday, Dec. 8. All St. Mary's students and teachers are invited to wear their ugliest Christmas attire either in-person or online on Monday or Tuesday next week. **Please remember that sweaters should have no profanity, violence, vulgarity, or political statements.**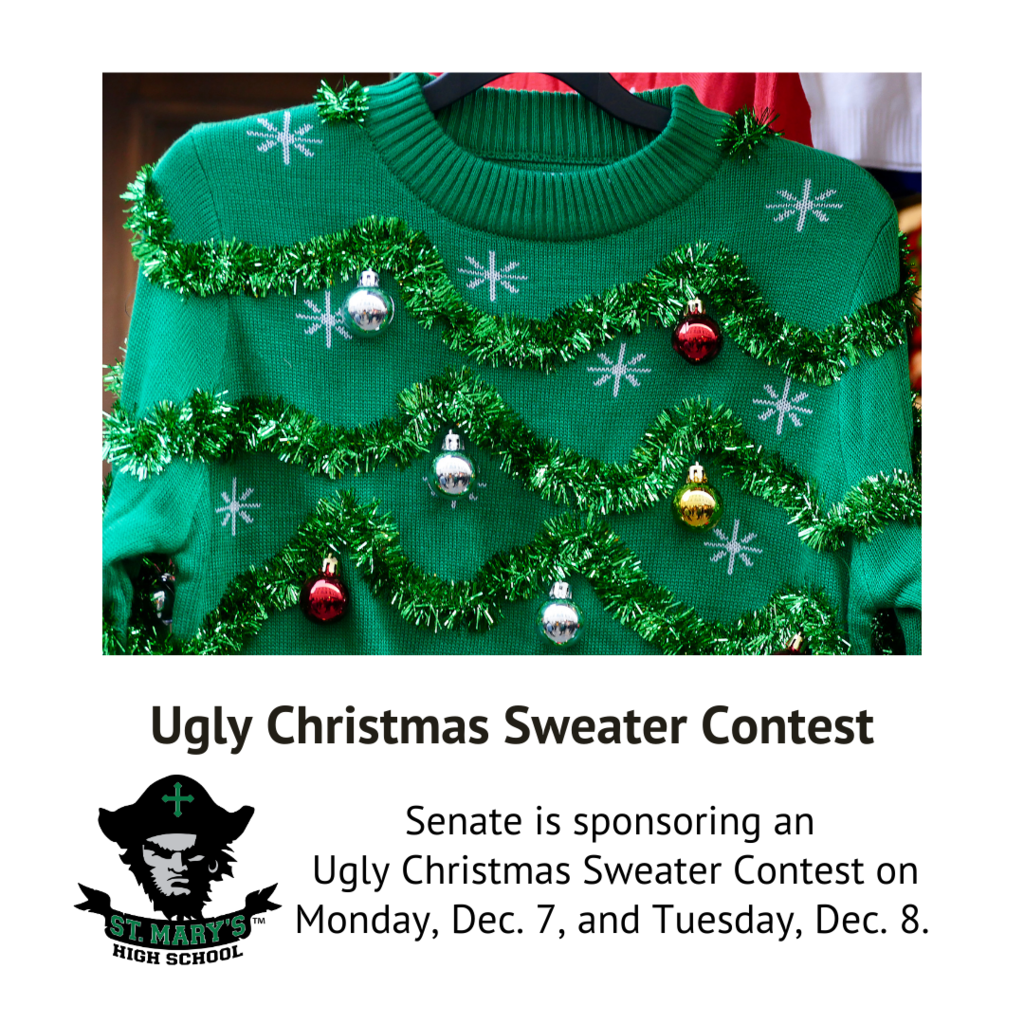 The winners of this year's Thanksgiving card contest are: 3rd place: Coraline Zhang 2nd place: Briana Ruiz 1st place: Briana Springs (art is pictured) Thanks, Pirates, for sharing your talents with us!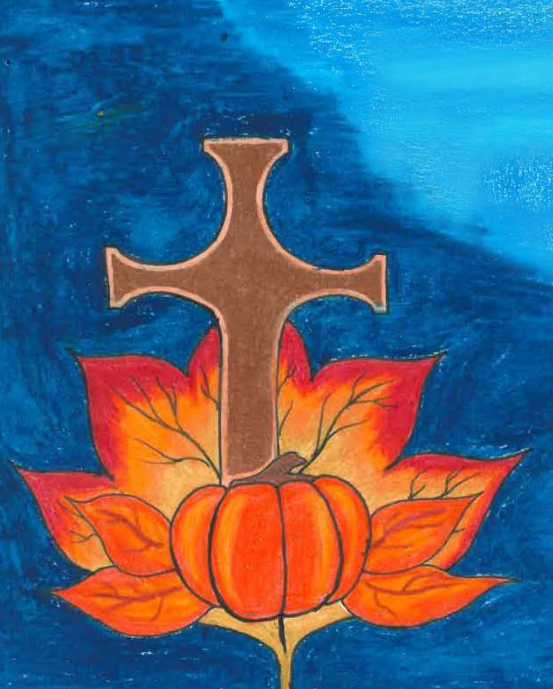 The speech and debate team has had two successful weekends so far this month. This past weekend, Sabrina Damien placed first in Dramatic Interpretation at the Woodland Park virtual speech and debate tournament. The week prior the performances by Jonathan Lee and Owen Barton at the Air Academy Student Congress resulted in Jonathan being elected as presiding officer and Owen being nominated for outstanding speaker. Congratulations, Pirates! It is not too late to join the speech and debate team. Contact Coach Borst, Mrs. Knoepke, or any current team member for more information.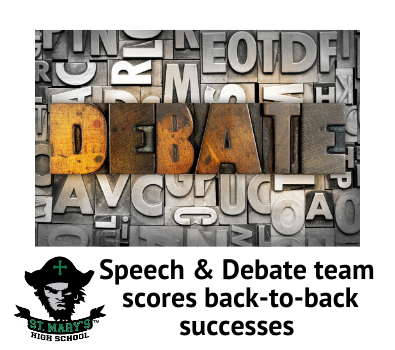 St. Mary's speech and debate team hosted a successful online tournament this past weekend. Congratulations to Sabrina Damian who finished in first in dramatic interpretation and Daniel Zill who placed first in big questions debate. Jonathon Lee and Owen Barton both received fourth-place ribbons. Congratulations! #SMHSPiratePride #StMarysSpeechDebate #PiratesAchieve

Due to winter weather, St. Mary's will have an online instruction day on Monday, Oct. 26. Students, please log in to your classes at the appropriate times according to the Regular Bell Schedule. Stay safe, Pirates!

Next week (Oct. 26-30) is Spirit Week at St. Mary's! The schedule of spirit days is posted in the News section of the website and app. Plans have been made for students doing in-person instruction and those doing remote instruction. Check it out and show your Pirate Pride!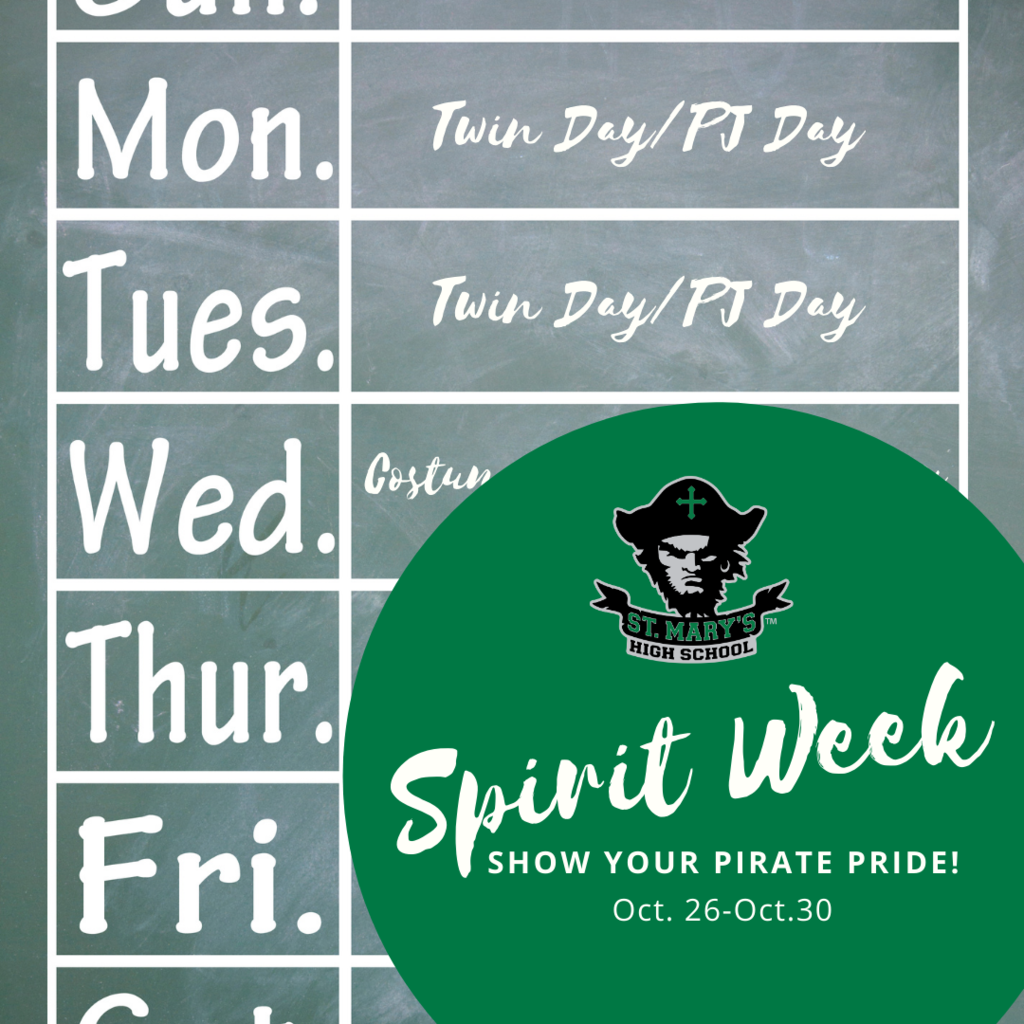 Boys basketball is having fall workouts on Mondays, Wednesdays, and Fridays from 3:30 pm to 5:30 pm in the school's gym. All boys are welcome to join. For questions, please contact Coach Vaz at
5vazcolo@msn.com
.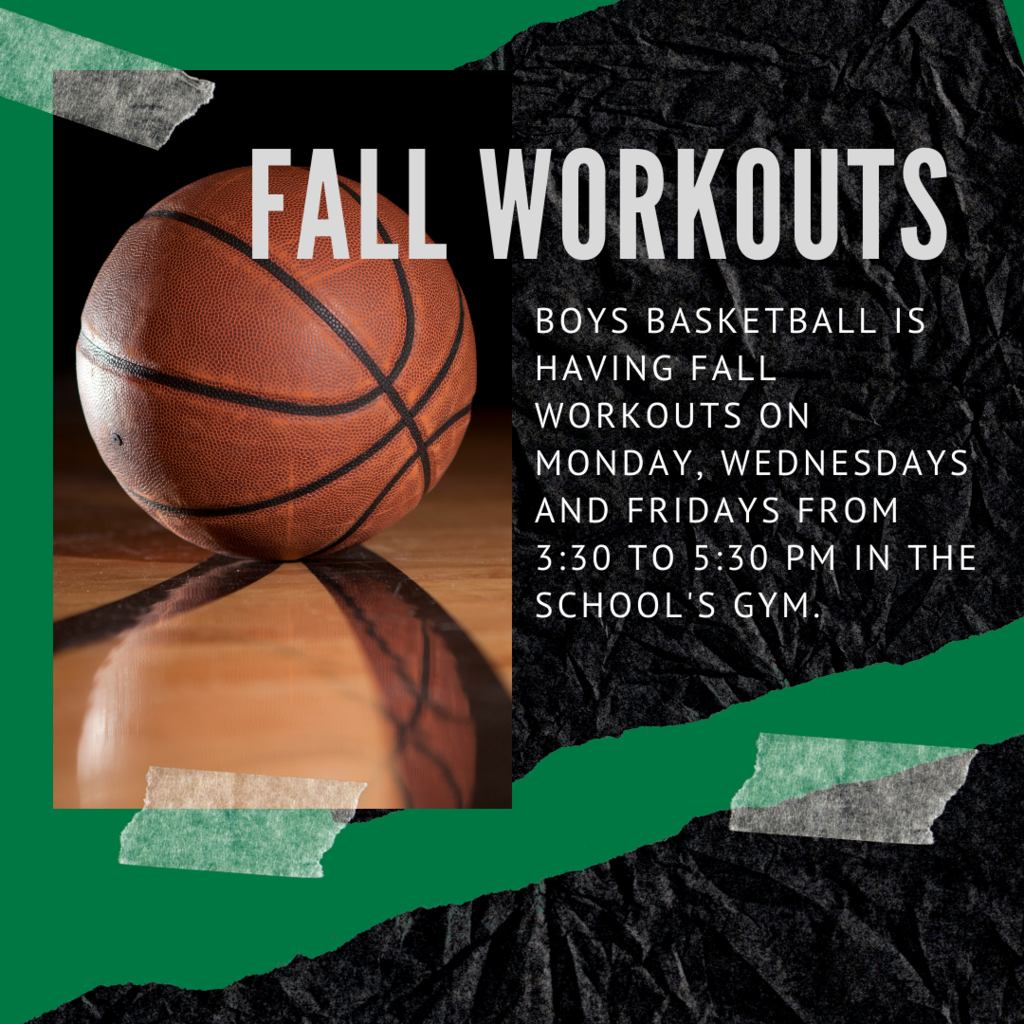 Our cross country finished fourth at the state championships on Friday, marking the team's best finish in at least 30 years! The team of five--Dylan Brush, Jackson Neppl, Lyndon Gotelaere, Jacob Limb, and Alex Bodnar (all sophomores and juniors) did what no St. Mary's team has done since 1991 (according to one parent's research on MileSplit). The most recent previous best was 12th place, awarded last year to the same five boys. Congratulations, Pirates! #SMHSPiratePride #SMHSCrossCountry #PiratesAchieve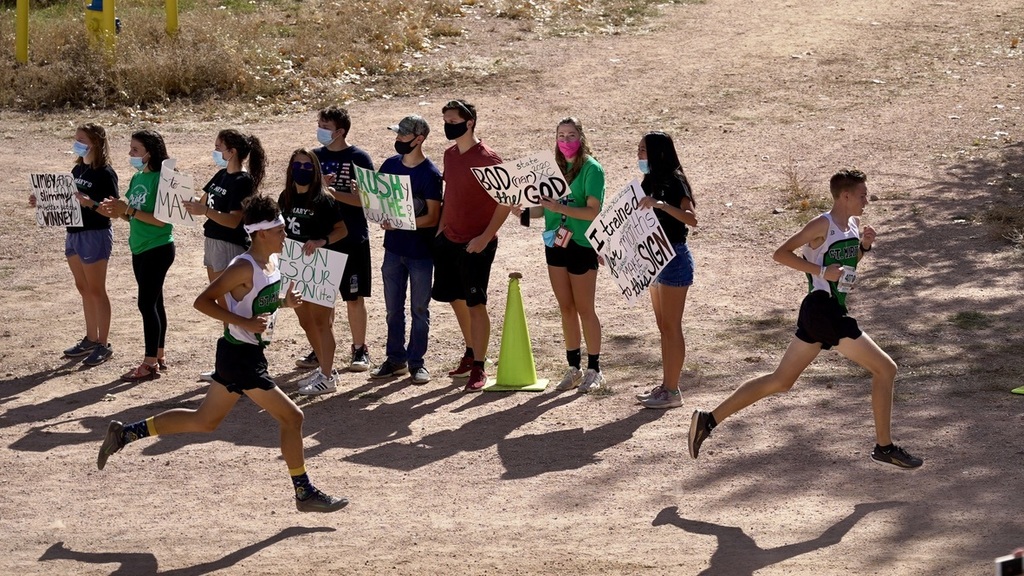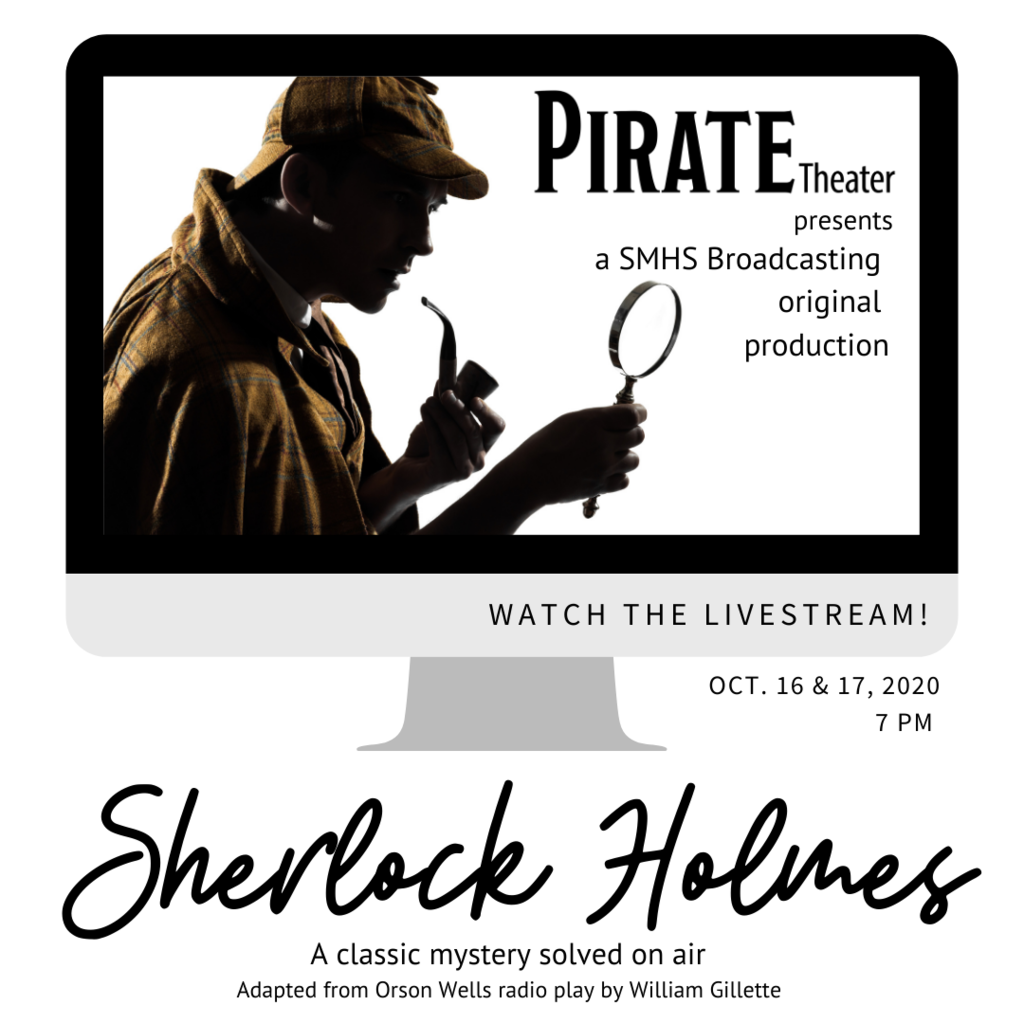 The St. Mary's boys cross country team took first place at regionals on Friday, Oct. 9. The team was led by Dylan Brush's second place finish and Jackson Neppl's third place finish. The boys team will now compete at state on Saturday, Oct. 17, at The Norris Penrose Event Center at 2 pm. Congratulations, Pirates! #SMHSCrossCountry #SMHSPiratePride #PiratesAchieve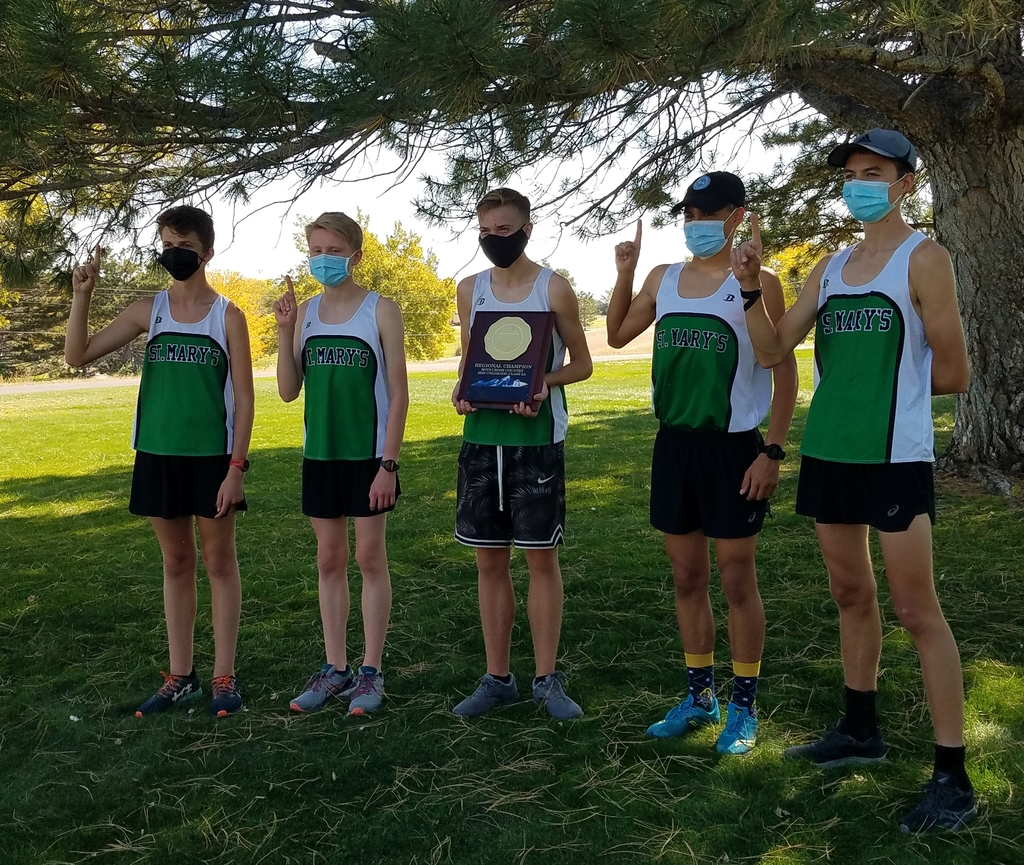 Last week, the St. Mary's boys golf team won regionals and the seniors are heading to state! Congrats to seniors Peter Stinar, Luke Calvin, RJ Davis and sophomore Dillon Barrett. Congratulations also go out to coach Joe Davis who was named Tri Peaks League Boys Golf Coach of the Year. Thanks to him and and coach John Stinar for helping make it a great year! #SMHSBoysGolf #SMHSPiratePride #PiratesAchieve (Photo: Kristine Patrick Barrett‎)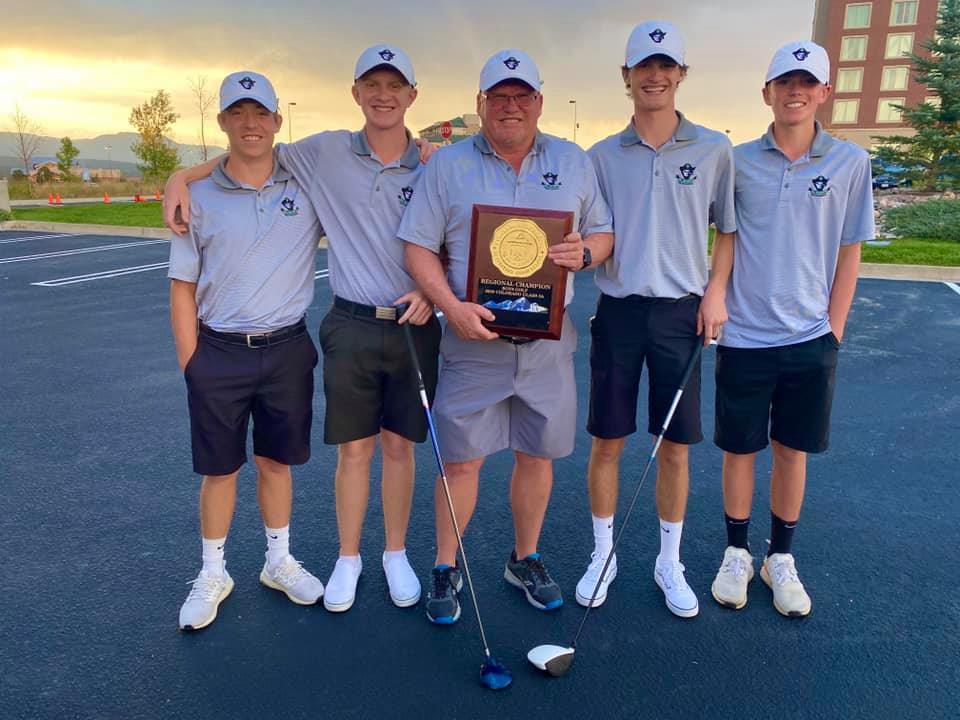 Saturday our Pirate cross country teams competed in a pre-state meet at the Norris Penrose Event Center. The boys team took second overall for boys 2A earning themselves giant silver belt buckles! Congratulations to all who competed! #SMHSPirateCrossCountry #SMHSPiratePride

The St. Mary's boys golf team finished first out of 17 schools at the Cheyenne Mountain Golf Tournament. Arapahoe was second and Cheyenne Mountain finished third. Individually, Peter Stinar placed fifth out of 83 golfers, shootig a 78. RJ Davis finished eighth with a 79. Luke Calvin was 15th with 80 and Daniel Stinar shot a 97 to finish 53rd. Great job, Pirates! #SMHSPiratePride #SMHSBoysGolf #SMHSPiratesAchieve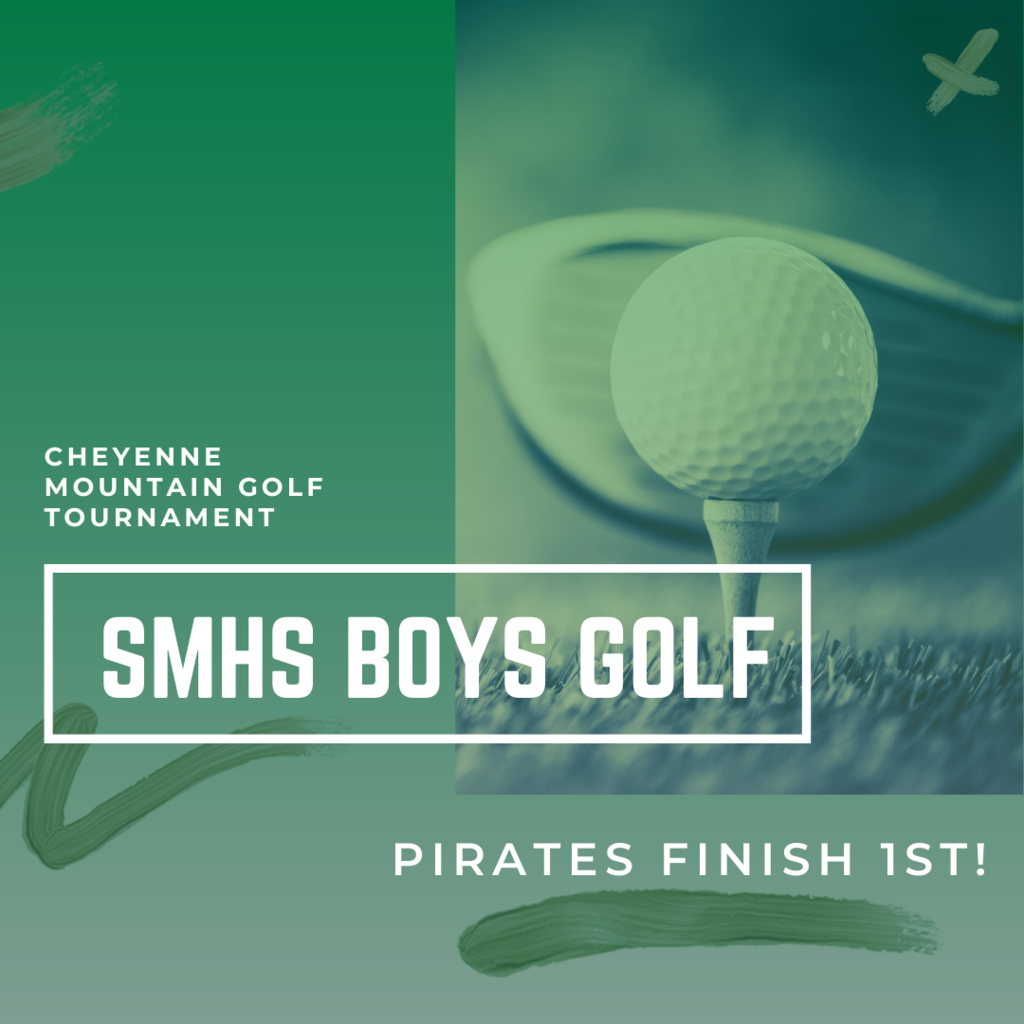 The St. Mary's High School volleyball team hosted a series of volleyball camps last week, which included three sessions with girls and boys in the fifth through 12th grades. The camp partnered with Divine Redeemer's Food Pantry this year for our Food Pantry Challenge! For every pantry item campers brought in, their name was entered to win one of two volleyballs! One winner of the winners, pictured here, is Rachel Limb, an eighth grader at Divine Redeemer and sister to current SMHS student Jacob Limb. The partnership was a beautiful way to connect the cultures of the two schools. Philanthropy is a central value that connects all schools in the Catholic school systems and has roots reaching into the athletic programs. It is who we are. #SMHSGirlsVolleyball #SMHSInspiredByFaith #SMHSUnitedByCommunity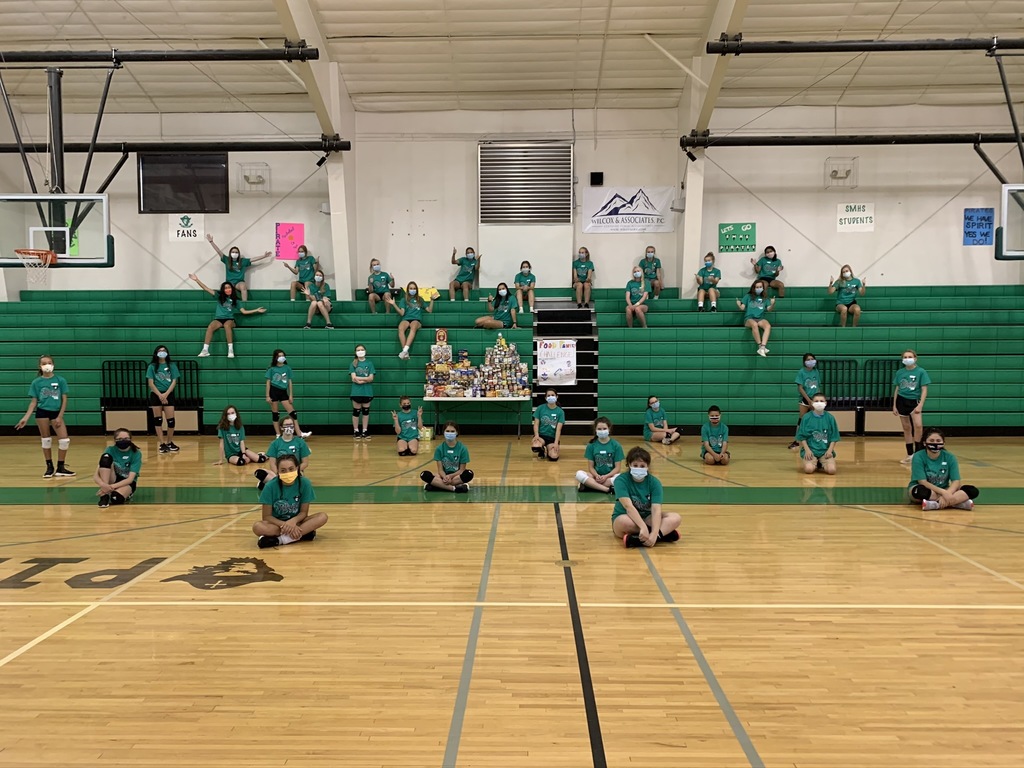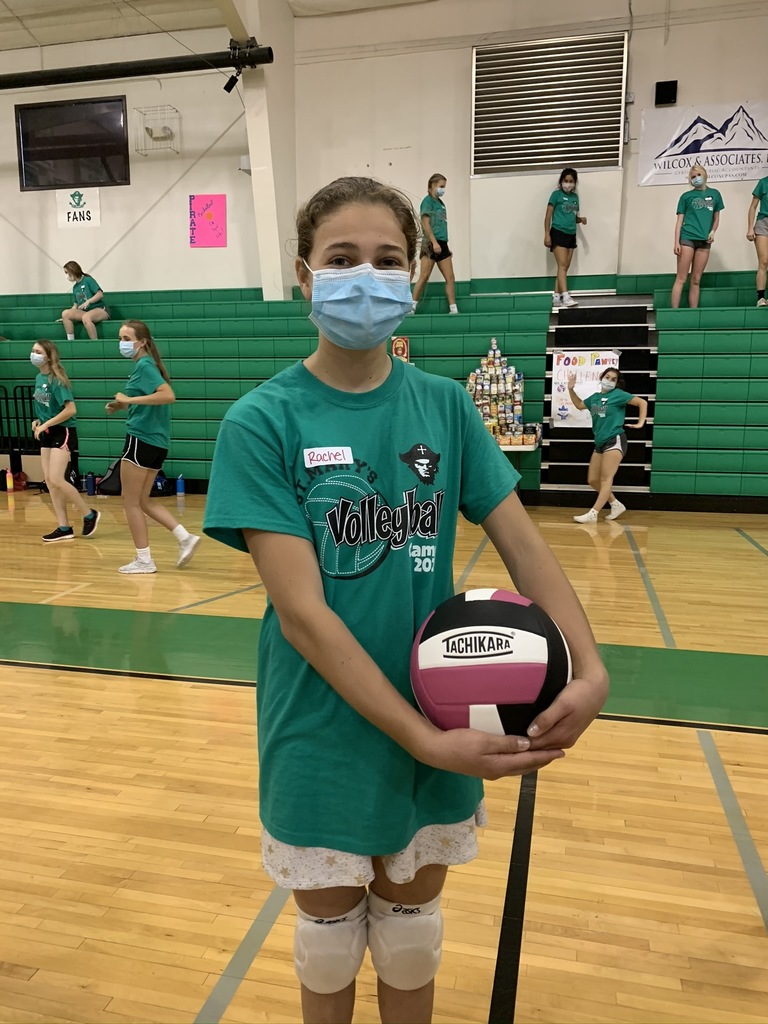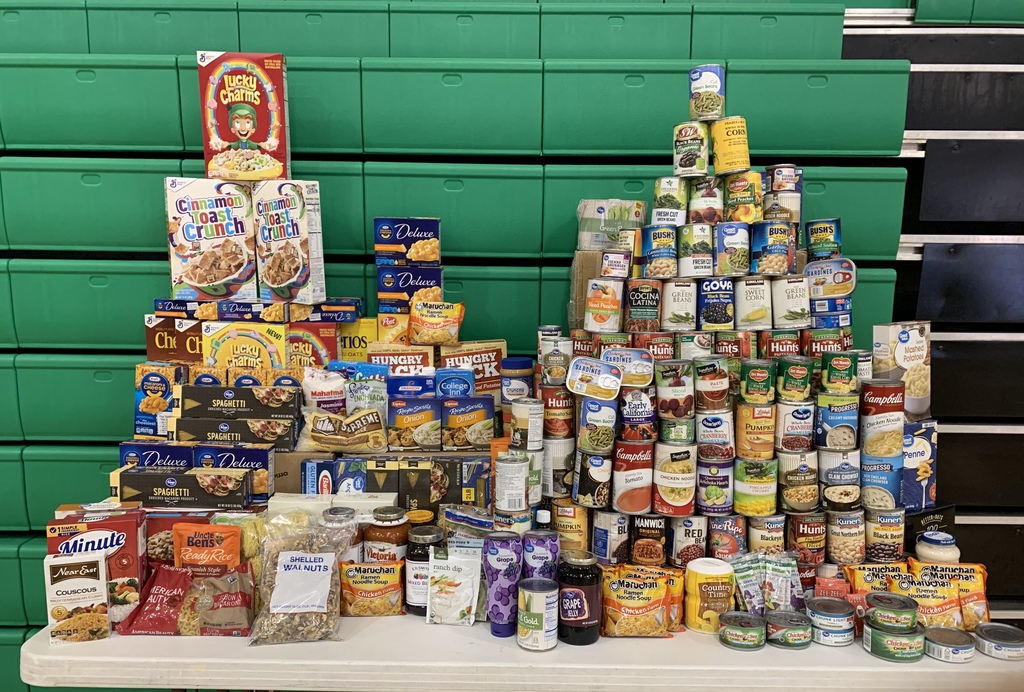 Fall sports are getting underway! Cross country practices will begin this week. All interested students should plan to attend the first practice on Wednesday. Students need to arrive in a mask and have a parent present or bring a COVID-19 waiver that has been completed by a parent. If you are interested or would like more information, email Coach Kloenne at
mkloenne@smhscs.org
. #SMHSPIratePride #SMHSCrossCountry #SMHSPirates20202021

It was an unconventional graduation. But on June 13—three months to the day after distancing learning was announced—the class of 2020 gathered at The Grace Center to celebrate commencement. The last minute approval of parents and guardians being able to attend just added to the joy everyone felt for the seniors. To see all of the photos from the day, check out Diane Torrence's album at dianetorrence.smugmug.com/SMHS-Class-of-2020/Graduation/ Thanks, Diane, for documenting this special, yet unconventional day! #HeartofSMHS #SMHSPirates2020 #FAITHfullyProvidingKNOWLEDGEtoOurCOMMUNITY #SMHSUnitedByCommunity