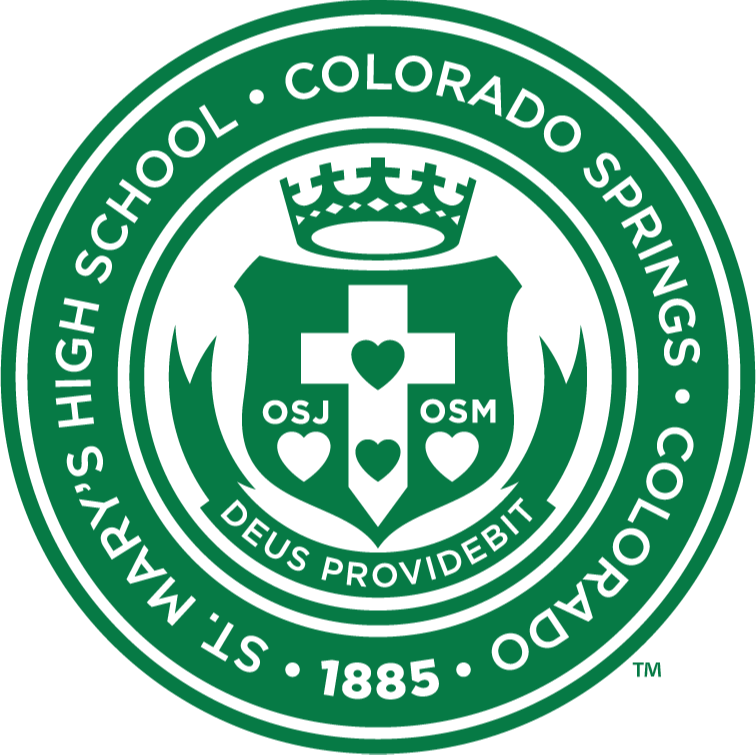 Eric Baxter
Counselor
ebaxter@smhscs.org
719.635.7540 ext. 20
St. Mary's High School focuses on preparing students and families to be well informed of the ever-changing landscape of the college admissions process. Our focus on college preparedness is grounded in the mission of the school "to educate students in the Catholic tradition to be responsible, moral, critical thinkers and leaders, well-prepared for college and life."
The guidance counselor's goal is to know each student at St. Mary's personally. This is accomplished through a series of one-on-one student conferences, group meetings, and individual parent conferences as needed.
The chairperson of the theology department, Fr. Joe Dygert, as well as the principal and dean of students are also available to meet with students on a more personal level and to assist with life issues.
The guidance counselor encourages students to strive to develop strong applications, create balanced lists and apply to colleges that are a "good match" for their academic talents, abilities, and interests. The guidance counselor, has a wealth of information and resources at his fingertips to help in the college admissions, scholarship applications, and financial aid processes. He can provide a direct link to college admission offices, including military schools.
College planning and awareness begins as soon as your student enters the doors at St. Mary's. Our guidance counselor will meet individually with all students multiple times throughout the school year. Parents are welcome to make an appointment to discuss personal situations with the student's counselor.
In the fall, Freshmen sit for the standardized Iowa test; sophomores take the ACT test; and juniors take the PSAT. Counselors emphasize the importance of early academic preparation and planning. All incoming students and their parents set up an individual account on Naviance, an online college research tool that helps create a balanced list of colleges of interest to the student and family.
At SMHS, we strive to educate and empower our community by coordinating on-site College Representative visits throughout the school year to assist with the process.
Our College Guidance office guides students and families through an exceptional college-preparatory curriculum at St. Mary's High School, including 9 AP courses and 4 honors courses. Selection of courses each year occurs through individual student appointments with the guidance counselor with weigh-in from the parents. Early college planning is strongly emphasized.
COUNSELING SERVICES
Individualized one-on-one academic and college planning

Provide monthly communication to SMHS families

Liaison between students and college admission officers

Maintain relationships with college, university, and military institutions

Scholarship coordination

Facilitate parent / teacher communication
SCHOLARSHIPS AND FINANCIAL AID
National Scholarship Opportunities – In addition to local scholarships, we encourage you to look at other free sources of scholarships. For a national database of scholarship information, we suggest Fast Web or Sallie Mae. Both access the CASHE database, which is the largest in the nation and has over 600,000 scholarships listed.
College Scholarships Opportunities – The largest source of money for college is the college itself. If a student applies to a college with rolling-admissions, they should hear about acceptance to the college within 4 to 6 weeks. After being accepted, a student should contact the college office (example: College of Arts and Sciences office within the University of Colorado) and the specific department office (example: Chemistry office) for a list of scholarships. In addition, a student should contact the financial aid office for a list of scholarships that are available for students attending their institution. If a student is applying to a college that has an Early-April notification date, they should contact the same college offices mentioned above a few weeks after their complete application is mailed to the college.
CHSAA Scholarship Opportunity, presented by Wells Fargo, is open to Juniors and Seniors who currently attend a CHSAA member school, such as St. Mary's High School. Students are required to submit a 500-word essay detailing the best strategies for becoming financially prepared for college. Please see the submission form for specific criteria/requirements. Three winners are selected and these students are honored at the CHSAA Legislative Council Meeting in mid-April. All submissions are due to the CHSAA office by the third week of March. You can find the submission form by going to the CHSAA website.
Visit Scholarships.com for more information about scholarships, student loans, the FAFSA, scholarship scams, etc.