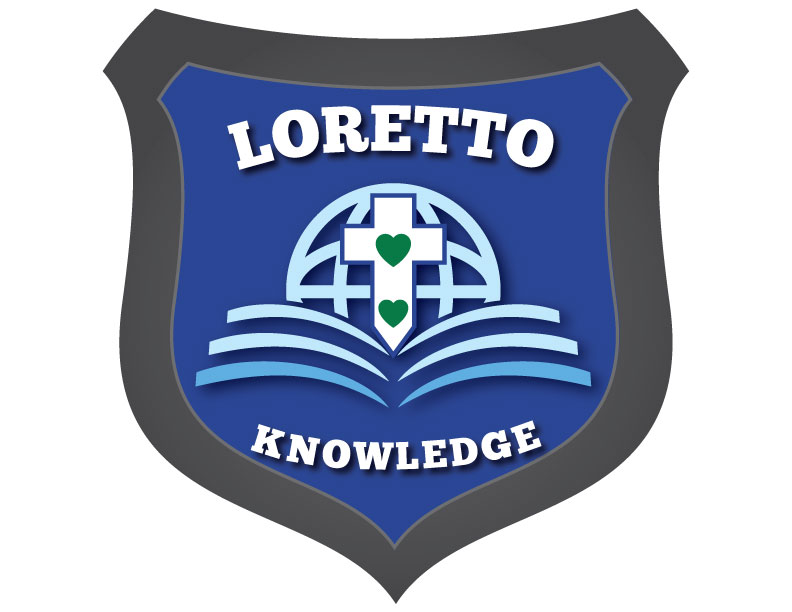 The color of Marian Blue connects to the school's namesake of our dear mother Mary.
St. Thomas Aquinas
St. Kateri Tekakwitha
An open book with a world symbol in the background recognizes the Sisters of Loretto commitment to education around the world. The Marian Blue background connects to the selected color for the Loretto House.
How the Shield Came to Be
In fall of 2021, the inaugural year of the St. Mary's houses, students were asked to design house shields. Those students designs were collected, common themes were identified, and those themes were used by a graphic designer to create a shield for each house.
The shape of the shield was taken from the St. Mary's crest and each House shield was required to include the cross, also found in the St. Mary's crest.
The Loretto House is named after the Sisters of Loretto who established St. Mary's High School, an all-girls school, in Colorado Springs in 1885.
The first wholly American sisterhood, the Sisters of Loretto were the first frontier order of nuns. Established in 1812 in Kentucky, the order was originally called "Sisters of Loretto at the Foot of the Cross". Shortening their name to Sisters of Loretto, their influence in the southwest led them to Colorado and into Colorado Springs. Since 1812, Sisters of Loretto teachers have educated students across the United States and around the world. With more than 200 years educating students, the Sisters of Loretto schools promote four core values: faith, community, justice, and respect.
In 1933, a wealthy parishioner by the name of Julia Cassidy donated a house located at 14 West Bijou Street to the local parish to be used as a convent. The Sisters of Loretto lived in this convent house until 1972. Today it is the site of the Marian House Soup Kitchen, a division of Catholic Charities of the Diocese of Colorado Springs. Surely the spirit of the Sisters of Loretto shines down each day as the needy of the community are served.
House Emphasis: Knowledge
Knowledge is the emphasis for Loretto House, honoring the dedication of the Sisters of Loretto to provide a strong education to students throughout the world.