ST. MARY'S HIGH SCHOOL
SINCE 1885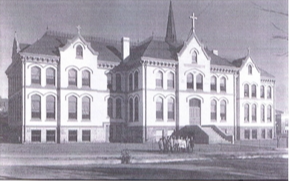 As the adolescent City of Colorado Springs, Colorado, took shape and grew in the early 1880s, the area's only Catholic priest had a vision. Father Robert Byrne recognized that Colorado Springs was a superior location for a Catholic academy to serve the needs of the many families moving into the area. He approached Bishop Nicholas Matz and the Diocese of Denver with his vision but was met with disfavor. Father Byrne persisted until the Bishop agreed to allow the Sisters of Loretto to come to Colorado Springs. Three sisters arrived in the summer of 1885 and opened Loretto Academy at 425 North Tejon on the first Monday in September. Nine female students were the first to enroll.
In the fall of 1886 as enrollment grew, the academy moved to a larger house at 106 North Tejon, but it was clear that a school building would be needed. In 1886, the sisters acquired property on Sierra Madre, between Kiowa and Bijou and began planning their building. Loretto Academy's four-story building opened for school in September 1888 and the school began accepting boys under the age of 12. The fourth floor became the sisters' residence. In 1897, St. Mary's Catholic Parish completed its new cathedral next door to Loretto Academy after more than a decade of planning.
By 1901, enrollment at Loretto Academy had grown to the point that more space was again needed. The Sierra Madre building had been constructed to allow for additions, and in 1902 two new wings opened as the area's first true parochial school. Given the changes in the school, the name also changed from Loretto Academy to St. Mary's School. That fall there were 250 boys and girls enrolled from first grade through high school, although the high school remained for girls only. In 1904, St. Mary's School graduated its first class comprised of two students. St. Mary's Parish purchased St. Mary's School in 1912, and retained the sisters as teachers at a salary of $25 each per month.
THE FUTURE OF SMHS
With continuous operation since 1885, the future of St. Mary's High School is very bright. As we reflect on the vision that came to the parish priest in a young western town so many decades ago, we pause and say "thank you."