St. Mary's Families,
Blessed Caesar de Bus, pray for us.
- More about Blessed Caesar: www.franciscanmedia.org/blessed-peter-gonzalez/
- Daily Mass readings for Wednesday in the Octave of Easter: www.usccb.org/bible/readings/041520.cfm
Updates.
- 7:45 am meeting link. IMPORTANT. The meeting link changes every day. We will send that meeting link out the day before in this e-mail. The meeting will be set up by 7:30 am. Login EARLY and give yourself a few minutes to troubleshoot. We had some report they could not get on the meeting today, but we had a much bigger group login without any problems. On time is late, early is on time... http://meet.google.com/jym-tmne-swb
- FLEXIBILITY. Some of you know I spent many years as the Air Force's "bad guy," I was the enemy in training events and exercises. As the bad guy, I used to share some of the "Moscow Rules" with my training audiences. There is some interesting perspective in these "rules" for any of us, not just the military people. The first three rules are particularly helpful:
1. Assume nothing
2. Technology will always let you down
3. Murphy is right (i.e. Murphy's Law: "Anything that can go wrong will go wrong...")
There you have it: The only thing we should assume is that things will go wrong.
- SPEAKING OF THINGS GOING WRONG... We intended to post a link to a recording of our daily Mass, and Fr. Joe celebrated Mass today in the St. Leo the Great Chapel here in the school. And then the recording failed halfway through Mass. Technology... We'll try again tomorrow!
COVID-19 coronavirus.
- Stay informed.
www.cdc.gov/coronavirus/2019-nCoV/index.html
covid19.colorado.gov/
How you can help.
- GALA. If you haven't REGISTERED for the Gala, please do so. It's easy and it's FREE. We can't go out, we can't shake hands, we can't gather in groups; but no one said we can't have FUN. Join us THIS SATURDAY, April 18, 8 pm-9 pm. Pistol Pete the Auctioneer, student videos, fabulous items to bid on; and everything to benefit YOUR St. Mary's High School.
- ENROLLMENT. The deadline for returning students registration fees is TODAY, April 15. After today, the registration fees increase. HOWEVER, if you need some additional time to turn in your registration fee, please contact the Business Office. As long as you are ENROLLED, we can work with you individually on the registration fee.
Parents, Students, how are you doing?
- HOW TO IMPROVE YOUR STATE OF MIND. If you want to feel better, try helping someone else. Karen Bishop sent me an article that outlined a face mask design contest here in Colorado. We have a lot of incredibly creative students (and parents and teachers!), and this is a simple and fun way to contribute to Colorado's safety efforts. Details are here:
https://coloradocreativeindustries.org/opportunities/mask-design/
Reminders.
- RAFFLE TICKETS. All sold and UNSOLD tickets need to be returned to the Business Office by ***NOON TOMORROW***. You may drop them through the mail slot to the right (west) of the main school doors.

Tuesday Trivia Answer.
- The question was: Who is the St. Mary's graduate whose name appears on the plaque in the northwest corner of the courtyard? With a bonus for identifying the year of graduation. The answer is Larry Ash, SMHS class of 1950 (see attached photo of the plaque and of Larry in the class of '50 photo). I had two correct responses, Mr. Biondini and Mr. England; but since neither of them copied their parents on their response, I disqualified them... If you read the plaque, there is a research project to be done. The plaque was dedicated in 1959, nine short years after Larry graduated, and it was dedicated "in memory of" which implies Larry had passed away. There is no mention of Larry in the St. Mary's history book. Of note, the legendary Msgr William Kelly, who dedicated the plaque in September 1959, died nine months later at the very young age of 54. Msgr Kelly's photo hangs in the president's office and his impact on the history of St. Mary's cannot be measured. Keep reading these e-mails and we'll periodically throw in some St. Mary's trivia for you.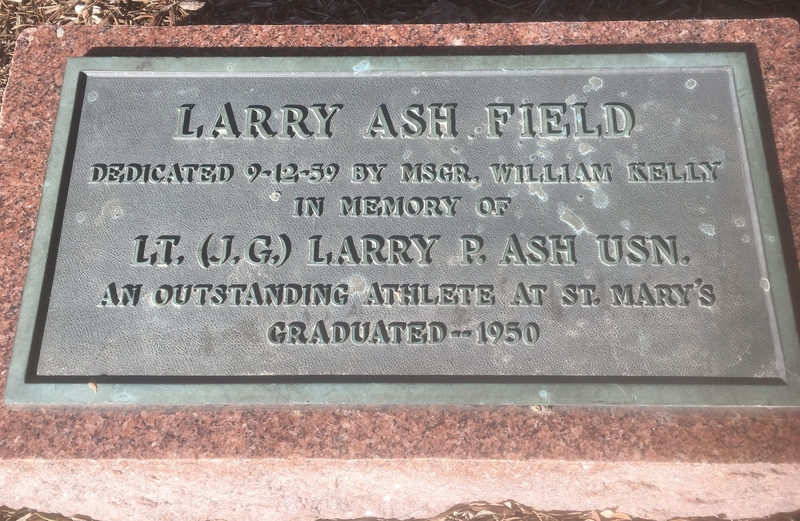 Prayer. Please continue to pray with us and pray with our community:
THE MEMORARE
Remember, O most gracious Virgin Mary,
that never was it known that anyone who fled to thy protection,
implored thy help, or sought thy intercession, was left unaided.
Inspired by this confidence, I fly unto thee, O Virgin of virgins, my Mother.
To thee do I come, before thee I stand, sinful and sorrowful.
O Mother of the Word Incarnate, despise not my petitions,
but in thy mercy, hear and answer me.
Amen.
Respectfully,
Rob Rysavy
President
St. Mary's High School