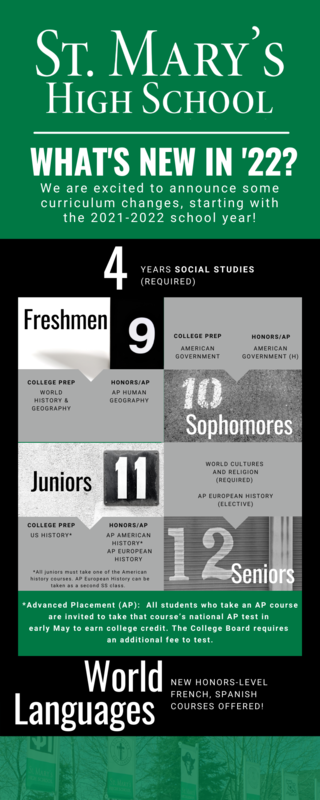 In our first installment of "What's New in '22?" we're introducing changes to our social studies and world language curriculum!
Social Studies
Freshmen now have two course options in this area: World History and Geography or AP Human Geography.
Sophomores will now take American Government, choosing between either the college-prep course or American Government (H).
American History will now be a junior-level class, and juniors can choose either the college-prep course or AP version of the course.
AP European History has been added as an elective for both juniors and seniors.
Mr. Champion's senior theology class has been moved to the Social Studies Department as a required class for seniors. This robust course gives students an opportunity to learn about and compare/contrast world religions and cultures. It provides important knowledge for seniors who are about to graduate and go out into the world.
Graduation requirement for Social Studies is now 4.0 credits.
World Languages
Students will still be required to take a minimum of 1.0 credit of a World Language. And counselors will continue to assist students in determining and following the world language requirements of the colleges that the students' apply to (most colleges require at least 2.0 and many times 3.0 minimum credits in the same World Language).
St. Mary's teachers will teach French and Spanish in the classroom. Any level taken above French II and Spanish II will now be designated as an Honors class, ie, French III (H), Spanish III (H), etc.
Other World Language courses are offered as an Independent Study class through BYU, and are taken during the school day. Examples include American Sign Language, Russian, Latin, Chinese, etc. There are no Honors options available for these online classes.
You can see all of our course offerings fro 2021-2022 on our Curriculum Guide pages on our website. Stay tuned to your email in the coming weeks for more exciting curriculum news from St. Mary's!